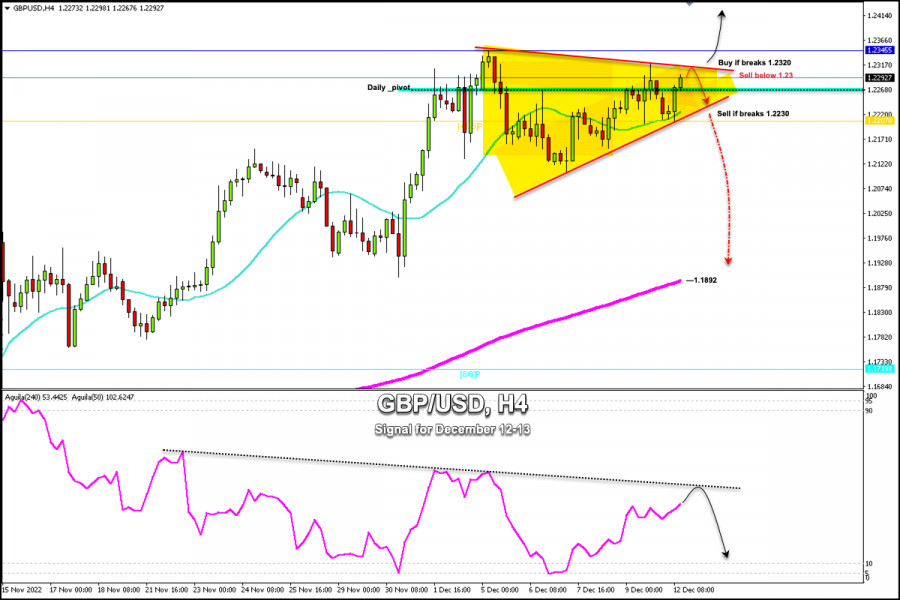 Early in the American session, the British pound is trading around 1.2292 with a bullish bias but is likely to be rejected by strong resistance at 1.23 because the price is near the top of the symmetrical triangle.
This symmetrical triangle technical pattern could determine the next move for the British pound and it could reach levels of 1.25 if it consolidates above 1.2320. On the other hand, a sharp break below 1.2230 could offer a bearish move towards the psychological level of 1.20. The price could even reach the 200 EMA located at 1.1892.
On December 13 and 14, there will be strong volatility in the market due to the release of inflation data and the interest rate decision from the United States, which could cause strong movement in all currency pairs with the dollar. So, we could see a strong movement in the pound breaking the zone of 1.2345 or falling below 1.2230.
Since November 21, the eagle indicator has been moving within a bearish channel. It proves that the pound could have difficulties consolidating above 1.2345.
In case the British pound falls below 1.23 and reaches the 21 SMA zone located at 1.2240, it could be a sign of a possible change in trend and we could expect a fall towards the support of +1/ 8 Murray at 1.2207.
Additionally, a sharp break of the symmetrical triangle below 1.2230 and a daily close below 1.2200 could confirm a bearish move and we could expect a fall towards the psychological level of 1.20. GBP/USD could reach the zone of 1.19 and even drop towards 8/8 Murray around 1.1718.
Our trading plan for the next few hours is to sell the British pound if it trades below 1.23 which represents the top of the symmetrical triangle, with targets around 1.2260 and 1.2230. Selling will resume if we see the British pound settle below 1.2207 with targets at 1.2074 and 1.1892 (200 EMA).
Trading analysis offered by
Flex EA
.
Source