The Australian dollar is almost unchanged today, after sharp gains on Friday. In the North American session, AUD/USD is trading at 0.6470, down 0.02% on the day.
Aussie Soars After Nonfarm Payrolls
The US dollar declined against all the major currencies on Friday, after a mixed nonfarm payrolls report left investors in a dovish mood. The October reading of 261,000 was down from the previous reading of 315,000 and marked the smallest gain since December 2020. The unemployment rate rose to 3.7%, up from 3.5%, while wage growth rose to 5.5% YoY, up from 5.2%. The latter release is likely to keep the Fed concerned about inflationary pressures.
Investors are expecting that the labor market will continue to soften and that the Fed will lean toward a 50 basis point hike rather than 75 bp, and this sent the dollar sharply lower after the NFP report on Friday. Still, with the Federal Reserve expected to raise rates to 5% or even higher next year, I expect the US dollar to remain attractive to investors.
The RBA is treading carefully, as seen with its modest hike of 0.25% last week. Governor Lowe said that the central bank was on a "narrow path" that required "striking the right balance between doing too much and too little." The RBA finds itself in a pickle, as its steep tightening cycle is slowing growth and hurting businesses and households. At the same time, inflation remains red-hot at 7.3%, fueled by high food prices. Inflation still remain the RBA's number one priority, but it has eased up on the size of the hikes, hoping that inflation will peak shortly and a recession can be avoided.
The RBA monetary policy statement was gloomy, with a warning that tough times lie ahead. The central bank is projecting a GDP of 3% over 2022, slowing to 1.5% in 2023. Inflation is expected at 4.75% over 2023, higher than the 4.25% forecast in its previous policy statement. The forecasts are based on the cash rate peaking at 3.5% in mid-2023.
AUD/USD Technical
There is resistance at 0.6549 and 0.6631
There is support at 0.6411 and 0.6329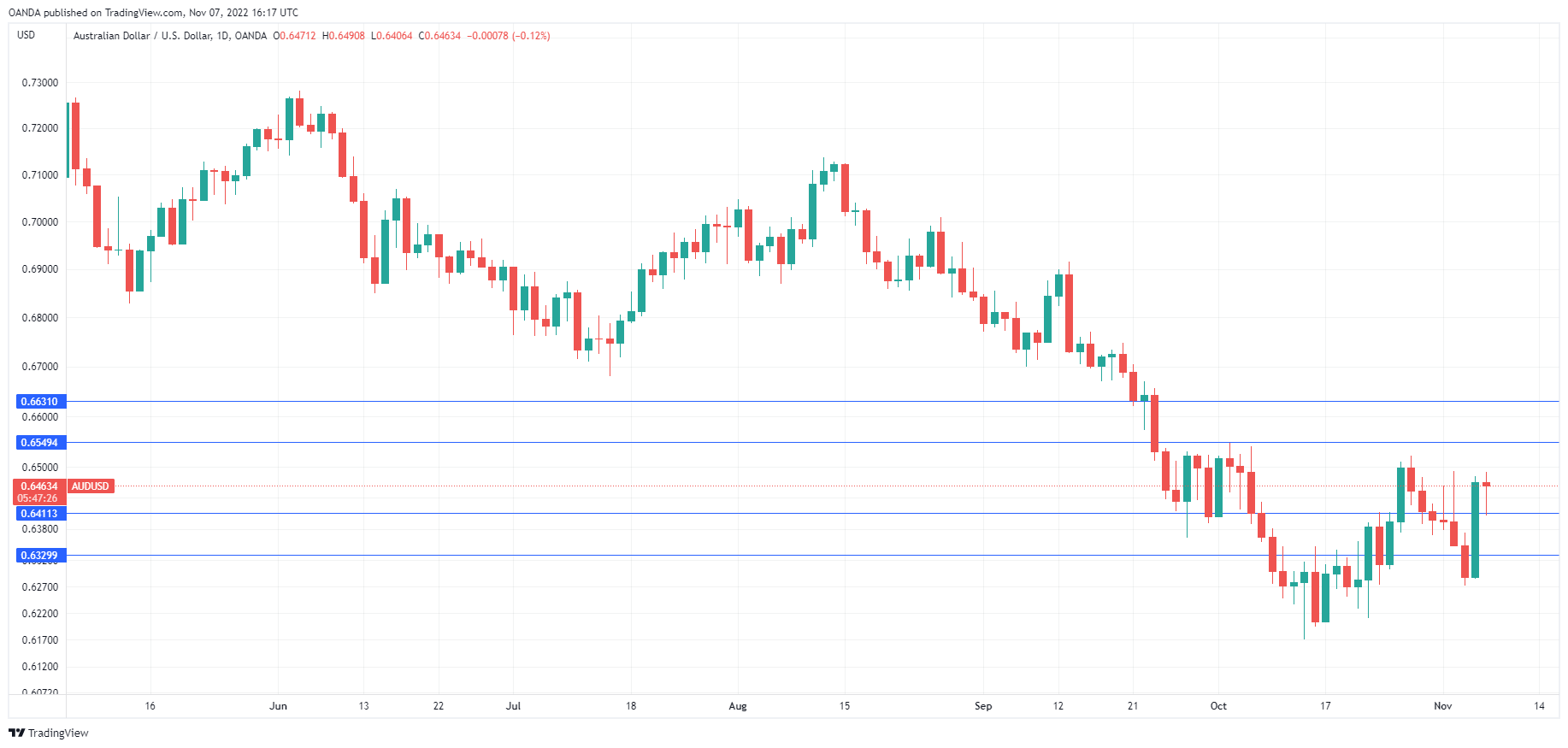 AUD/USD Daily Chart
Trading analysis offered by
Flex EA
.
Source