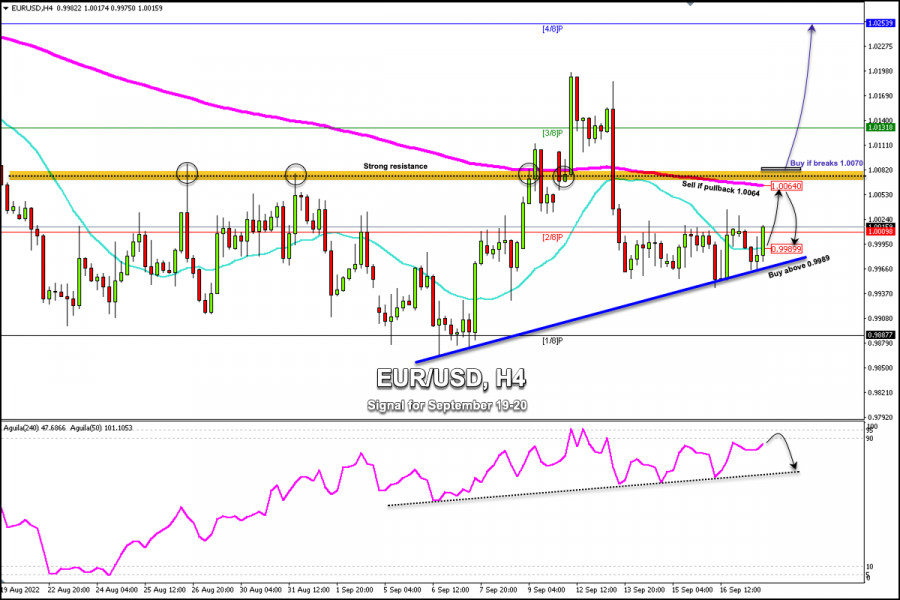 Early in the American session, EUR/USD is trading above the 21 SMA located at 0.9989 and above Murray's 2/8. The euro is likely to continue rising in the coming hours and could reach the 200 EMA zone located at 1.0064.
EUR/USD pair is struggling to maintain parity at the beginning of the week. It is trading just above the 21 SMA which offers a positive outlook for the next few hours.
Investors have priced in a 0.75% hike from the Fed. On Wednesday, the FOMC is due to announce its policy decision. Therefore, the general response from investors is to trade against the US dollar in the coming days.
The euro could reach the strong resistance of 4/8 Murray located at 1.0253 if the policy decision matches the consensus. On the other hand, if the FED increases the funds rate by 100 basis points, the euro could reach the critical support of 0/8 Murray located at 0.9765.
According to the 4-hour chart, we can see that the euro is trading above an uptrend channel formed on September 6th. Ahead of Wednesday's key FOMC event, the euro is expected to consolidate within a range between 0.9989 (21 SMA) and 1.0064 (200 EMA).
A sharp break and a daily close above the strong resistance at 1.0070 and above the 200 EMA at 1.0064 could ease the downside pressure and allow the euro to reach the 4/8 Murray zone at 1.0253.
Conversely, a daily close below the uptrend channel and a break below 0.9960 could accelerate the decline towards 1/8Murray at 0.9887 and the price could even reach 0/8 Murray at 0.9765.
Our trading plan for the next few hours is to trade the euro within the range around 0.9970 to buy and sell below 1.0064. The eagle indicator is giving overbought signals and the euro is likely to find it difficult to continue rising.
Trading analysis offered by
Flex EA
.
Source