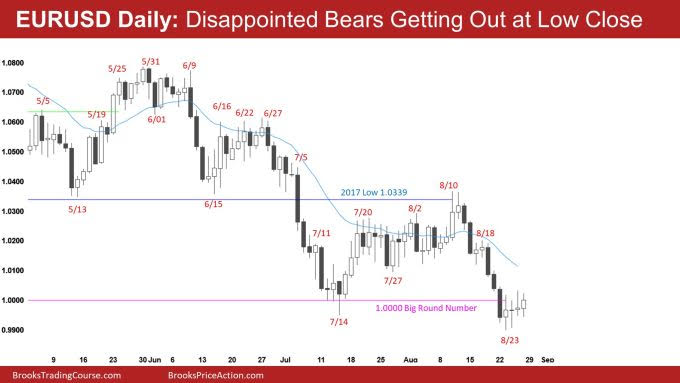 EUR/USD Daily Chart
EUR/USD bears have been disappointed with the past three weak follow-through bars after August 23. Some are buying back shorts around the low close (August 23), which is why the market is bouncing here.
The market formed a Low 1 short yesterday. However, it is a bull doji bar and follows two other bull doji bars. This increases the odds of trading range price action and lowers the probability of selling below yesterday's bar. Another reason why traders bought at or below yesterday's low.
Bulls are starting to do a good job of causing the market to stall around the 1.000 big round number.
Next, the bulls need to get a strong bull bar closing on its high and preferably closing above the highs of the past four bars.
The selloff down to August 23 is in a tight channel, which increases the odds that the first reversal down will fail, so the market still may have to go more sideways at this price level.
Bears see the past four bars as a pullback and a minor reversal, and they are probably right. However, the market has been in a trading range since mid-July. This means that the although the odds favor a minor reversal up, the pullback could be much deeper than the bears want.
Also, the bulls have a reasonable chance at getting a double bottom with the July 14 low here.
Ultimately, the market will likely return to the mid-May-June trading range over the next few months.
The next target for the bulls would be a breakout above the August 10 neckline of the double bottom (July 14 and August 23). The bulls want a measured move up to around the May high.
Today is Friday, so a weekly chart is essential. The current bar on the weekly chart is a reversal bar, within 40 pips of the open of the week. The bulls will try their best to close above the open of the week and far above it, creating a bull reversal bar on the week.
Bears want the opposite, and the market to close around the week's midpoint. The bulls have already done the damage, and the bears will likely have difficulty driving the market down to the middle of this week's range.
Trading analysis offered by
Flex EA
.
Source