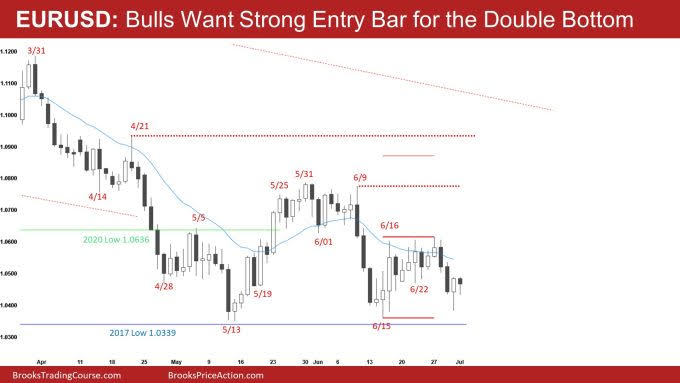 EUR/USD Daily Chart
EUR/USD bulls got a strong reversal bar following the June 13 bear close test and the June 15 low.
Yesterday was also the third reversal up from the 2017 low since May, which increases the probability of the market getting a rally here.
Bulls see yesterday as a signal bar for a higher low double bottom major trend reversal with June 15.
Bulls hope that the market will break above the neckline (June 27 high) and get a measured move up to 1.0871, which is about the June high.
Bears want the opposite and a breakout below the 2017 low. While it is possible, even if the market does fall below the 2017 low, there will probably be buyers, and the market will create a failed breakout of a double bottom.
bears can still argue the market is in a bear trend. The bulls need to get above the June major lower high, making the market either a trading range or a bull trend.
Overall, the bulls have an excellent-looking signal bar (June 30). The bulls need to trigger the buy and have a strong close today, creating a solid entry bar for the higher low double bottom. Bulls hope today will look like May 27, a bull trend bar closing on its high.
Today is Friday, so the weekly chart is important.
Bulls want the market to close above last week's low of 1.0469. Next, bulls would wish to close above the midpoint of the current week (1.0502).
Bears want the opposite of the bulls and for this week to close below last week's low and create as small a tail below this week's bar as possible.
Trading analysis offered by
RobotFX
and
Flex EA
.
Source