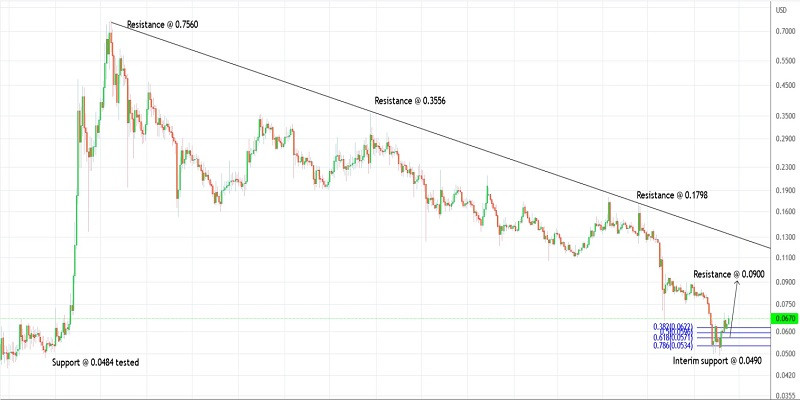 Technical outlook:
Dogecoin rose to the $0.0685 highs intraday on Friday, as the lower degree counter-trend still seems to be unfolding. The crypto is seen to be trading at around $0.0668 at this point in writing and is expected to turn lower towards $0.0575 as discussed earlier. Bears might be poised to hold prices below $0.0700 to keep the near-term structure intact.
Dogecoin has been dropping since May 2021 after printing all-time highs at around 0.7560 as seen on the daily chart. The corrective zigzag (5-3-5) structure looks complete and terminated close to $0.0490. Also, note that prices have just tested the long-term support seen at $0.0484, marked on the chart here. Ideally, a counter-trend rally should be on its way
Dogecoin has further carved its lower degree upswing between $0.0490 and $0.0700 in the past few trading sessions. The crypto is unfolding a counter-trend drop towards $0.0575, which is the Fibonacci 0.618 retracement of the recent upswing. If the above structure holds well, bulls will remain poised to resume a rally thereafter and push the price through $0.0900.
Trading plan:
Potential rally towards $0.0900 and higher against $0.0490
Good luck!
Trading analysis offered by
RobotFX
and
Flex EA
.
Source