Technical market outlook
Trading BTC/USD ( Bitcoin) :
Trend took Bitcoin to new highs of over $29k. The last record was held by a week in June that saw around $30k in inflows, and Bitcoin dominated last week's crypto funds inflows with a share of over 75%.
After finding bids reach to $29,700 (right now), bitcoin price recovered above $29k and $30k .
Initial Bitcoin resistance lies near the $29,977 level (50% of Fibonacci retracement levels).
A decent breakout and follow-up move above $29,700 could open the gate for a push towards the $30,542 level.
The main resistance remains near the area of $30,542 - $31,317. Also it should be noted that Bitcoin and cryptocurrencies unite as the bears lose their momentum since last week.
The market is indicating a bullish opportunity above the above-mentioned support levels, for that the bullish outlook remains the same as long as the 100 EMA is headed to the upside.
An uptrend will start as soon, as the market rises above resistance level $30k, which will be followed by moving up to resistance level $30,542. Further close above the high end may cause a rally towards $31,317. Nonetheless, the weekly resistance level and zone should be considered.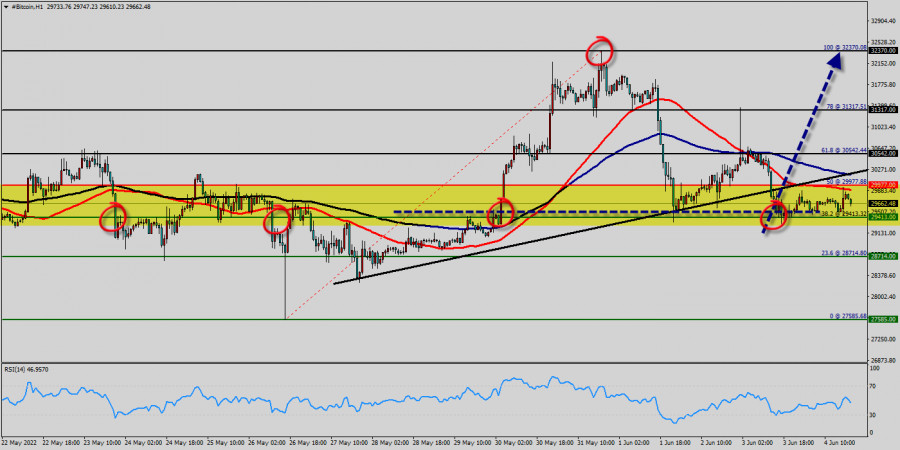 Trading recommendations :
The trend is still bullish as long as the price of $28,714 is not broken. Thereupon, it would be wise to buy above the price of at $29,413 with the primary target at $30,542. Then, the BTC/USD pair will continue towards the second target at $31,317 (a new target is around$ $31,317).
Alternative scenario :
The breakdown of $ 1,208 will allow the pair to go further down to the prices of $28,714 and $27,585.
Long range : $27,585 - $32,370
Use historic rates to determine future prices.
Daily Technical Analysis.
Resistance 3 : $32,370
Resistance 2 : $31,317
Resistance 1 : $30,542
Pivot Point : $29,977
Support 1 : $29,413
Support 2 : $28,714
Support 3 : $27,585
Trading analysis offered by
RobotFX
and
Flex EA
.
Source