Joe Biden, who previously called Saudi Arabia a pariah, is now ready to do much to get Riyadh to recover the oil market by means of increased production. Saudi Arabia is also making concessions, which is reflected in an increase in planned production by OPEC+ from +430,000 to +650,000 bpd already from July. However, this does not help the Brent bears much.
Oil continues to rally as, firstly, there is little difference between the 650k bpd and 430 bpd that has already been factored into the quotations for the North Sea grades. Secondly, according to S&P Global, OPEC+ has produced 2.6 mln bpd less than planned over the last few months due to capacity problems amongst individual members. This is not only about Russia, but also about other members of the alliance. The Rapidan Energy Group estimates that the cartel and its allies will only be able to increase production by 355k bpd over the next two months. Finally, thirdly, 650,000 bpd is negligible compared to 3m bpd. The IEA calculates that global supply would fall by this amount if Russia were to be squeezed out of the market.
Obviously, Russia needs to put a lot of effort into rectifying the situation. Both the old tanker-to-tanker schemes, following the examples of Venezuela and Iran, and a serious discount for buyers are being used. Currently, the difference in price between Brent and Urals is as high as $35 a barrel.
Dynamics of the discount between Brent and Russian oil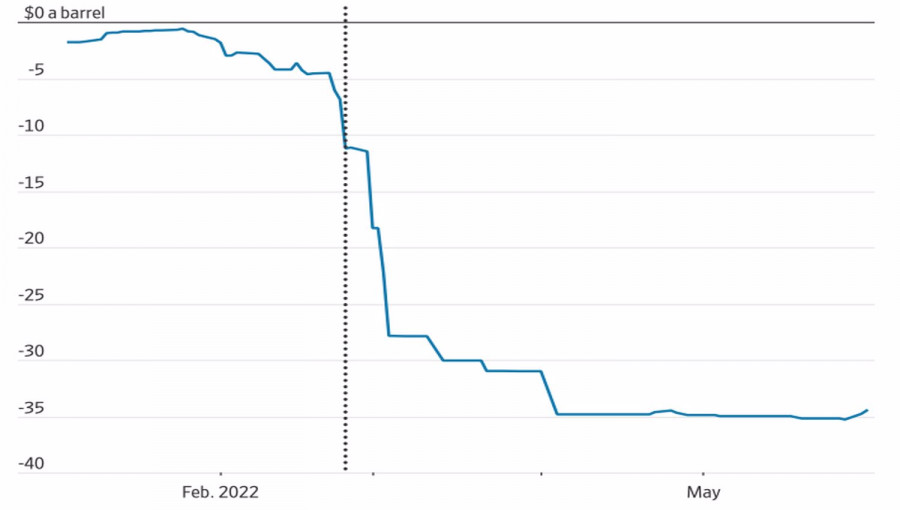 Saudi Arabia, on the contrary, increased black gold prices for its Asian customers by $2.1 per barrel against Bloomberg experts' forecasts of +$1.8 per barrel, indicating Riyadh's confidence in the market's bright future.
Goldman analysts estimate that Brent crude will need to average $135 a barrel in the 12 months from July, up $10 from its previous forecast, for global inventories to normalize by late next year. They are now 75 million barrels less than expected. The deficit is estimated by the bank to average 400k bpd in the third quarter. Although production in Russia has fallen less than forecast, it continues to do so. By the end of 2022 the figure will be down by 1 million bpd from 10.8 million bpd in May.
Thus, the supply shortage associated with the displacement of the Russian Federation from the oil market requires higher prices for the North Sea grade. This, combined with the end of lockdowns in China, sets the stage for its rally to continue.
Brent, daily chart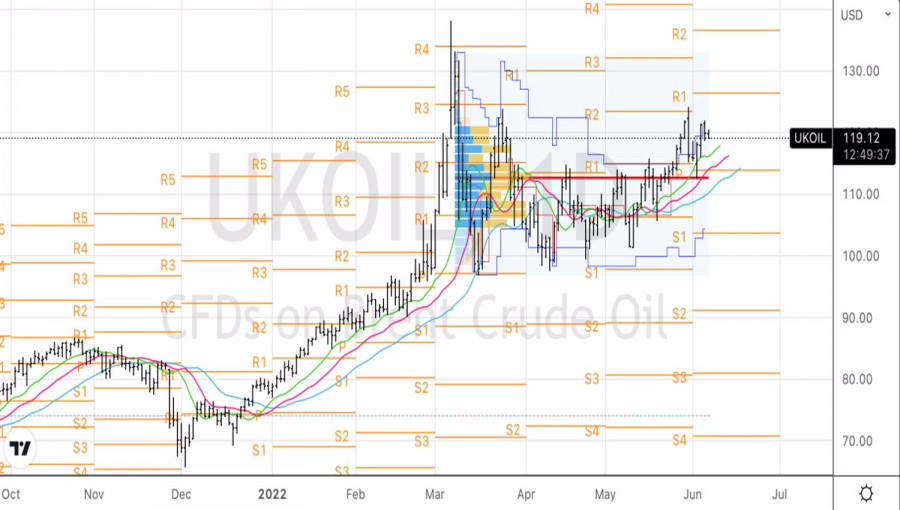 As long as Brent remains above $112.5 per barrel, the bulls continue to control the situation. The current risks to the recovery of the uptrend give grounds for buying on a rebound from dynamic resistance in the form of moving averages near $117, $115.5 and $114.
Trading analysis offered by
RobotFX
and
Flex EA
.
Source