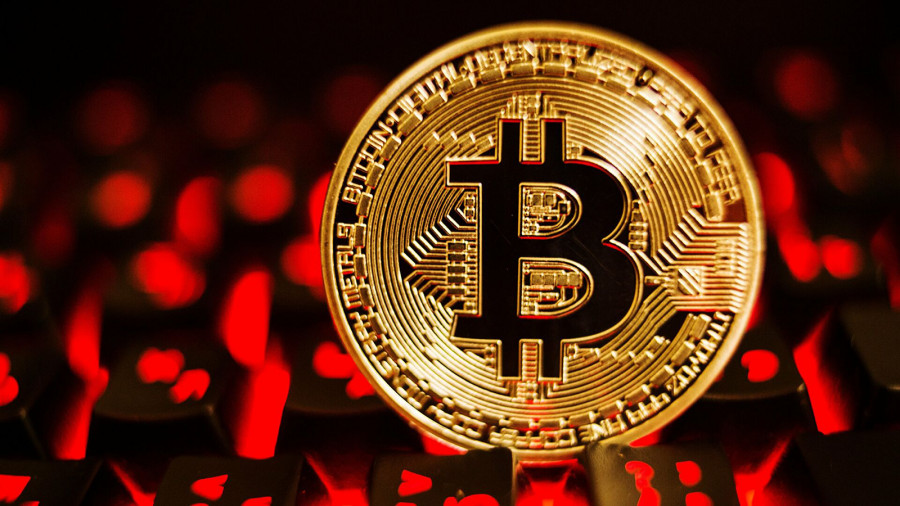 On the 4-hour TF, the technical picture for bitcoin looks very good. After bitcoin quotes were fixed below the ascending trend line, a fall began, and a little later a descending channel was formed, inside which the price continues to move now. After the pair unsuccessfully tried to overcome its upper boundary and the Ichimoku cloud on Wednesday, the fall resumed. The "false breakdown" was caused by the illogical reaction of the market to the results of the Fed meeting. However, the very next day, bitcoin began to fall again, as predicted by the technical picture. Thus, in the coming days, the "bitcoin may fall to the level of $ 34,267.
In the first week of the geoconflict, bitcoin became more expensive.
The cryptocurrency reacted not quite logically to the first weeks of the military conflict between Ukraine and Russia. A little later, it became clear that investors began to leave the collapsing economies of the two countries. But since central banks immediately imposed strict restrictions on the stock and currency markets, many investors tried to withdraw their capital from the countries using cryptocurrencies. This explains the growth of bitcoin, the demand for which has grown greatly. Bitcoin could also be used to protect against the depreciation of the Russian ruble, which sank to the level of 150 rubles per dollar. Nevertheless, after a few weeks, the ruble exchange rate began to stabilize and has now risen to pre-war values. Everyone who wanted to withdraw capital from Ukraine and Russia has already done so, so the demand for bitcoin began to sink. At this time, there is no point in buying cryptocurrencies, as the ruble is growing. And the withdrawn capital in bitcoins could have long been converted into stable currencies like the dollar, which continues to grow in the foreign exchange market.
Thus, the geopolitical conflict first supported bitcoin and then contributed to its fall. At the moment, we do not see a direct correlation between the escalation of the conflict in Ukraine and the new movements of bitcoin. Tension persists, and in difficult and dangerous times, protective assets and currencies are in demand, to which bitcoin does not apply. Therefore, theoretically, the conflict in Eastern Europe may exert background pressure on digital gold, but it is unlikely to be strong. The Fed's program is much more important now, according which the rate may rise to 3% in 2022, and the Fed's balance sheet may begin to shrink by $ 100 billion every month. These two factors are much more likely to provoke the fall of the "bitcoin".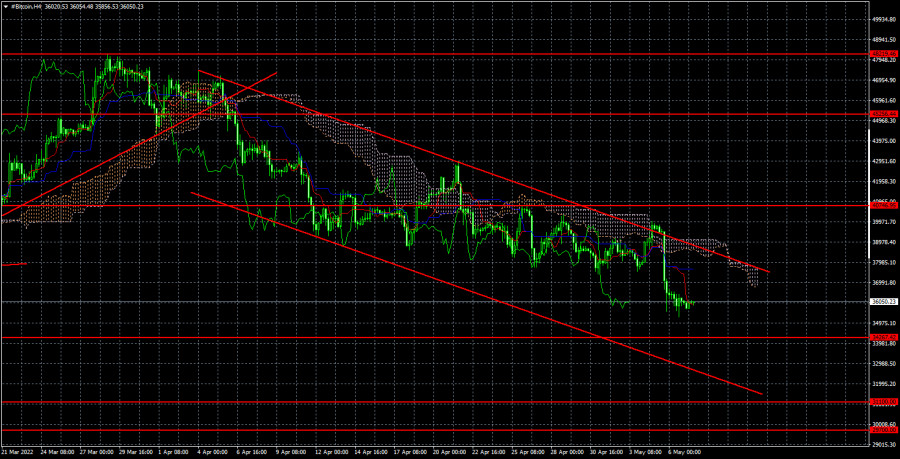 On the 4-hour timeframe, the quotes of the "bitcoin" continue to fall with targets of $ 34,267 and $ 31,100. Therefore, we recommend selling at this time. If the price is fixed above the descending channel, it can be a strong signal to buy, but we are not counting on a new upward trend now anyway.
Trading analysis offered by
RobotFX
and
Flex EA
.
Source