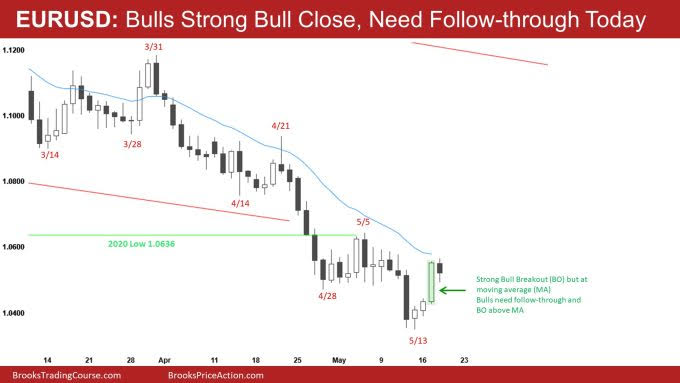 EUR/USD Daily Chart
EUR/USD bulls got a bull bar closing on its high yesterday. The bulls have strong buying pressure, and the context is good. However, the bulls need follow-through here.
Right now, the bulls have a final flag setup with the May 12 failed bear breakout, and now the market is back into the 10-day tight trading range.
The problem the bulls have is that yesterday's breakout is at the 20-point exponential moving average, which is resistance. So this may be a buy vacuum test of the moving average.
Yesterday is a strong enough breakout bar to increase the odds of a surprise and second leg up.
Today will be an important day. Today, the bulls have an excellent opportunity to demonstrate strength and have today be another big bull breakout bar closing above the moving average. This would make the market clearly always in long and increase the odds that this will be the rally that reaches the bottom of the March – April trading range.
The channel down from March 31 is tight, increasing the odds that the rally from the May 12 low is minor. Today may be a bear bar, which would remind traders that the market may go more sideways than straight up.
So far, today's low is around a 50% pullback of yesterday's bull breakout bar. Bulls will try and buy a 50% pullback of yesterday's breakout because it gives them better risk-reward and decent probability. Those bulls could place a stop below yesterday, and a 1:1 risk/reward would be the high of yesterday.
Overall, today will be important to see if the bulls can get follow-through after yesterday's bull breakout.
Trading analysis offered by
RobotFX
and
Flex EA
.
Source