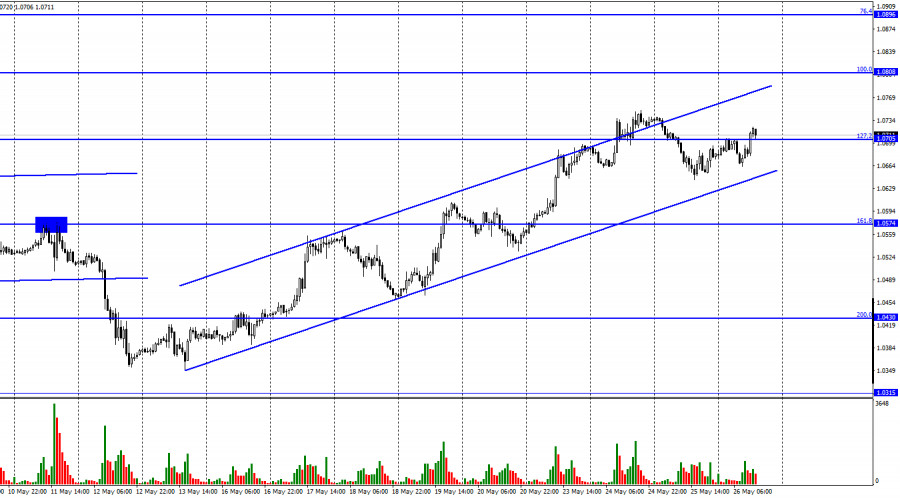 Hi, dear traders! EUR/USD reversed upwards on Wednesday and has extended its uptrend on Thursday. At the time of writing, the pair returned to the retracement level of 127.2% (1.0705), but failed to settle above it. The current ascending channel indicates that traders remain bullish on EUR/USD. However, the latest economic events have been mixed and could not have triggered the pair's 400 points increase. The PPI data releases in both the US and the EU, as well as US durable goods orders generally do not influence traders significantly. The pair's upwards reversal is very likely a typical upward correction after a lengthy downtrend period of the past few months. The situation in Ukraine has not improved, and the euro's long-term downtrend could resume once again.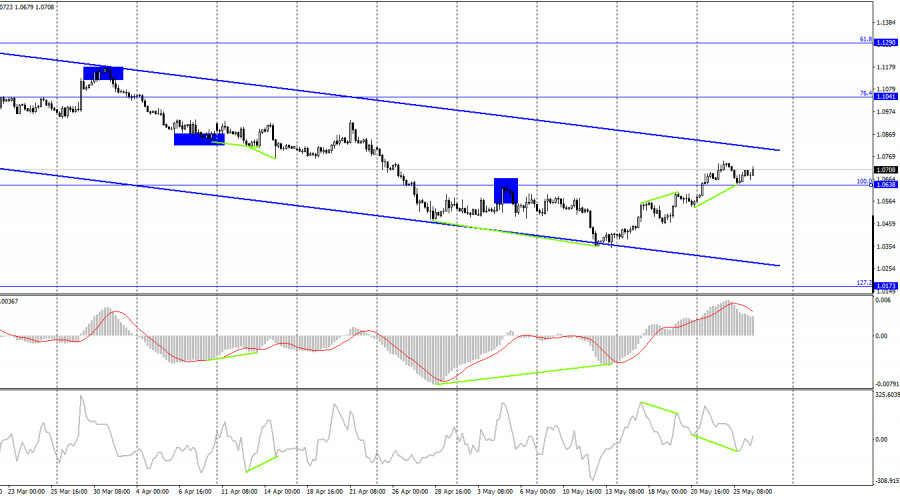 According to the H4 chart, the pair bounced off the retracement level of 100.0% (1.0638) upwards, forming a bullish CCI divergence. EUR/USD has begun to move towards the Fibo level of 76.4% (1.1041). However, the pair remains within a descending trend channel, indicating bearish sentiments among traders. As stated above, the pair's upturn could likely be a correction - the pair remains in a downtrend on the H4 chart.
Commitments of Traders (COT) report: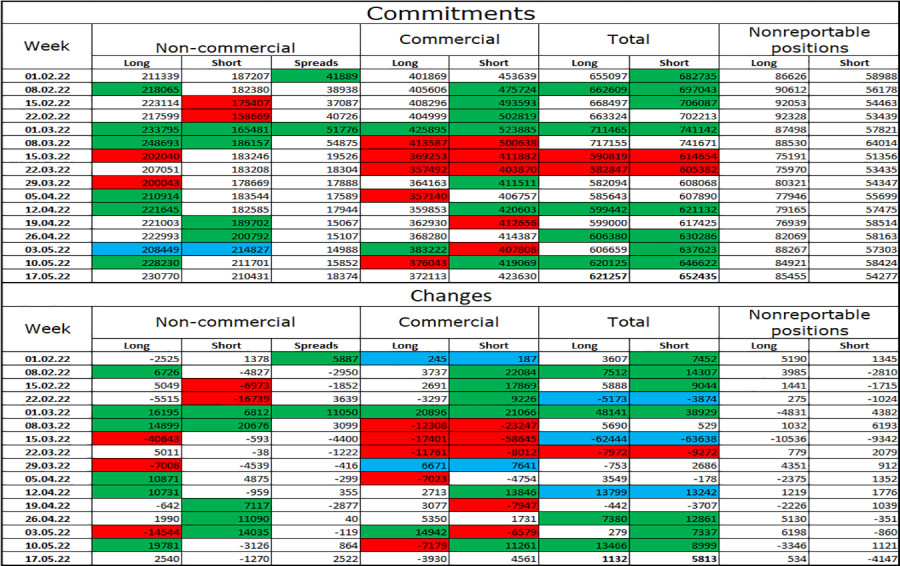 Last week, traders opened 2,540 Long positions and closed 1,270 Short positions, indicating an increasingly bullish sentiment in the market. The total number of open Long positions is not 230,000 against 210,000 Short positions. The gap between Open and Short positions is quite small and does not match the prolonged downward trend of EUR/USD. The European currency has been sliding down, despite the bullish trader sentiment. The situation remains roughly the same this week, with trader positioning not matching the actual situation in the market.
US and EU economic calendar:US: initial jobless claims (12-30 UTC):US: GDP growth rate QoQ (12-30 UTC).
There are no economic events in the EU today. Today's US GDP data is the main data release of the day. Events on the economic calendar could have an indirect impact on traders in the second half of the day.
Outlook for EUR/USD:
Short positions can be opened if the pair closes above the price channel on the H1 chart, targeting 1.0574 and 1.0430. Earlier, traders were recommended to open long positions if the pair bounced off 1.0638 on the H4 chart, with 1.0705 being the target. These positions can now be closed.
Trading analysis offered by
RobotFX
and
Flex EA
.
Source