In our previous EURUSD forecast, we discussed EUR/USD price reaching higher levels, such as, $1.06400, which was a high reached on its last bullish attempt last Monday, forming a 144 pips large candle.
It was a sharp move that took the price outside the downtrend channel and above two resistance levels: $1.05825 and $1.06736, both confluences of resistance.
After breaking above resistance levels, the price slid down to $1.06736 and verified that level as a support. From there, the price was able to maintain higher levels.
The week ended on the upper level of daily candles with Friday's wick above all previous candles. That means the price has tested higher levels and was not pushed down as a sign of bullish strength.
The currency strength meter reflects EUR as a much stronger currency than USD, which is also confirming the bulls' strength.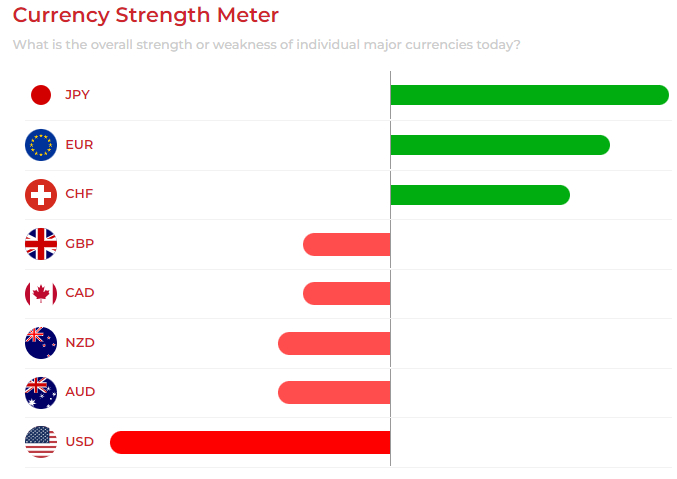 Currency strength meter
EUR/USD price is above the $1.06736 support level and a little below the next resistance level at $1.07825 which was a significant level it tried to break below during its previous price attempts. And it was a good support level that held the price for a week.
After breaking that level the price dropped 300 pips.
Now, the price has a resistance level that must be tested. And the price will likely test that resistance and price around $1.08300 which is close to the monthly trendline. That trend line was a trigger for a big sell off because the price has broken outside of the triangle.
$1.08300 is around 100 pips from the current price, a two days' pip range for EUR/USD. If the price manages to close above the $1.08446 resistance level, that will be the signal the price has moved outside of the bearish trend and we can look for more bullish trading opportunities.
$1.07825 is the first step and it is a base for bullish attempts to attack higher levels. But, keep in mind that $1.08446 is above the monthly trendline. And price could retrace to test the breakout from the monthly triangle which will be the start of a new selloff.
If the sell off happens, the price will need to move below $1.05825 in order for the price to return to a downtrend.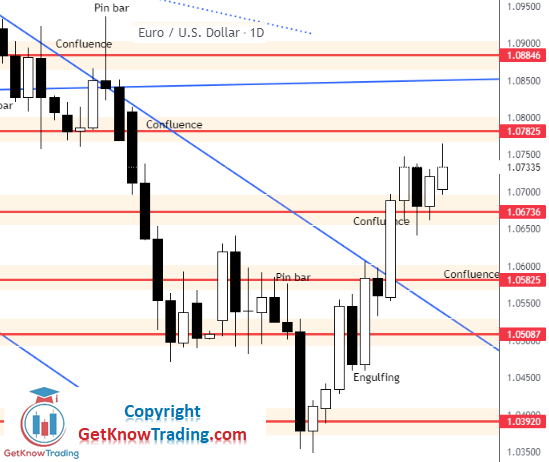 EUR/USD Daily Chart
Trading analysis offered by
RobotFX
and
Flex EA
.
Source