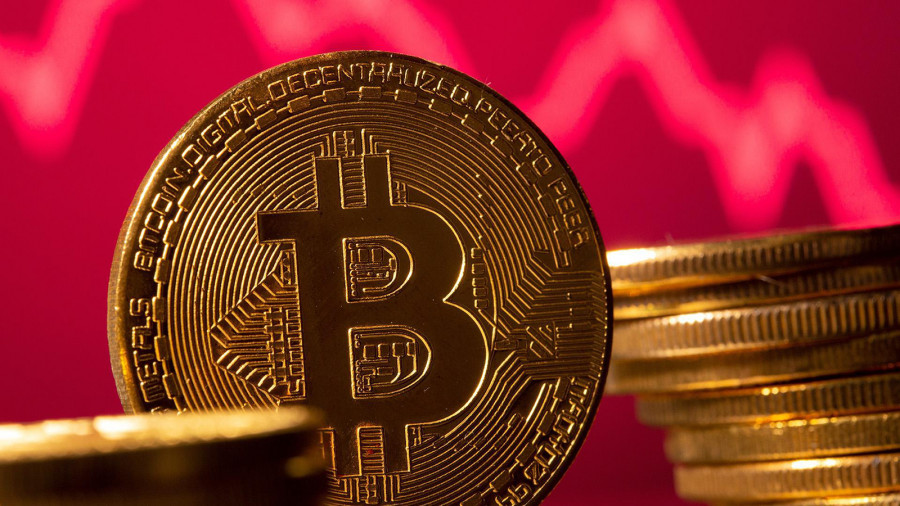 Bitcoin is trading very calmly this weekend. The cryptocurrency managed to overcome the important level of $ 45,256 and now it is located above it, which opens up certain prospects for further growth with a goal of $ 51,350. From our point of view, this is a local, corrective growth, but not the beginning of a new upward trend. We have repeatedly said that the fundamental and geopolitical background remains difficult for all risky assets and instruments. Thus, most likely, after the completion of the current correction, the fall will resume. However, in the case of cryptocurrencies, you can never be 100% sure of something. Even by 80%. Therefore, while the "technique" signals an upward trend, we are considering purchases. It should be sold when the cryptocurrency is fixed below the ascending channel on the 24-hour TF.
Meanwhile, it became known that a 19-millionth anniversary coin was mined on the bitcoin network. Recall that the maximum possible number of coins that humanity can receive is 21 million. After the last coin is mined, the reward system for miners will be destroyed. However, even earlier, interest in bitcoin may decrease significantly because the remuneration of miners will fall with each new drop in remuneration. We also remind you that the more coins are mined, the less reward the miners receive. Consequently, if the bitcoin exchange rate does not continue to grow in the medium term, its mining may simply become unprofitable. Already, according to various estimates, the cost of one coin is about $ 30,000. If the exchange rate falls, and the long-term prospects remain vague, this may lead to miners switching to other, more promising cryptocurrencies. Moreover, there is no shortage of them.
It is also reported that the last mined block of bitcoin can be obtained no earlier than 2140. Unless, of course, the cryptocurrency network lasts for so long, and interest in bitcoin mining does not fall to zero. After all, the term is more than 100 years old. The last two years have clearly shown humanity that predicting something even a year ahead is a thankless task. Therefore, we believe that it is not quite right to talk about the cost of bitcoin even at $ 100,000 per coin. Especially in 2022, when it is completely unclear how the Ukrainian-Russian military conflict will end and how the market will react to an increase in the Fed's key rate by 2-3% (as planned now).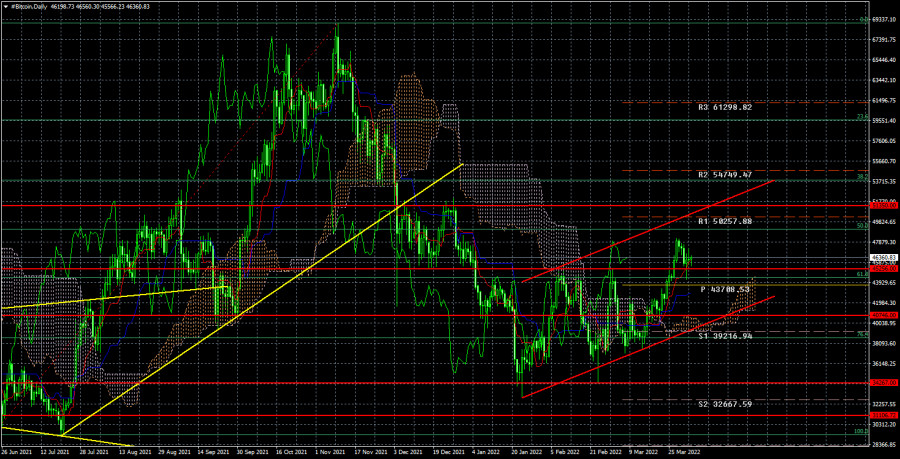 In the 24-hour timeframe, the quotes of the "bitcoin" have overcome the level of $ 45,256 and are currently holding above it and inside the ascending channel. Thus, purchases are relevant now, but the current growth is corrective. It may end in the near future. Sales should be considered after fixing below the ascending channel with targets of $ 34,267 and $ 31,100.
Trading analysis offered by
RobotFX
and
Flex EA
.
Source