In our previous EUR/USD analysis, Monday was to be the day the market made its decision as to the direction in which EUR/USD would move for the week, and a bullish Pin bar formed on Monday at the $1.09860 support level.
Tuesday had a strong bullish move that closed the price above the $1.10755 resistance level which was confirmation of future move up. As per the chart below, we can see a wick on the upper side reaching higher levels than the previous bullish attempt.
On Wednesday we had a bullish candle that took the EUR/USD price close to the $1.11871 resistance level, but it reached the start of the demand zone.
Thursday the price reached higher levels and touched $1.11871 almost in a pip. From there the price slid back down because of the strong demand zone and sellers waiting to push the price down. Profit makers helped to move the price down, which ended as a bearish engulfing candle closing below the $1.10755 support level. That was a sign the price would move further down.
EUR/USD moved down slightly on Friday, but the price reached the downtrend channel support line and stopped there.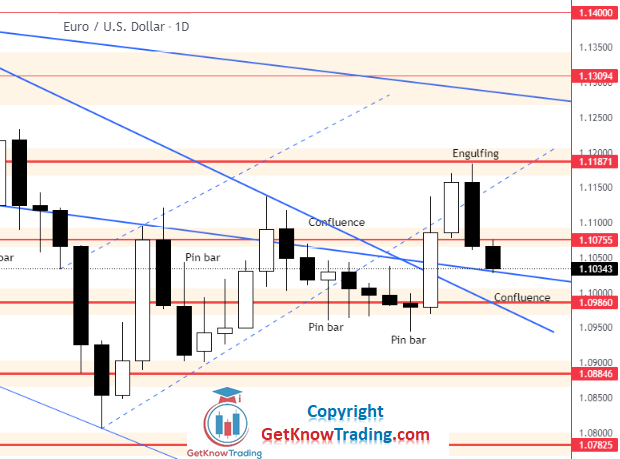 EURUSD Forecast 2.4.2022
The price has moved out of the previous week's indecision area and is now back almost to where it started. We'll need to see where the price will move in the coming week.
EUR/USD is heading towards its next support level of $1.09860. Currently, the price has only a downtrend channel support line in front, but because of the lack of support strength, we should see the price moving down.
There could be a slight reverse back to $1.10755 after the strong sell off of the last two days this trading week, but from there we could see bearish pressure.
$1.09860 is the target for the next week which will be the decision level for the bears and bulls. Bears are pushing from the upper side, but bulls have strength to hold the price above. This is what we saw last week. $1.09860 is a confluence of support comprising a horizontal support level with two downtrend channel support lines. That support zone will hold the price for a while.
If the price breaks below $1.09860, we will see the price around $1.08846 which is the decision level for bears. If the price breaks below, we could see a strong sell off and EUR/USD price moving towards $1.07825.
On the upper side, $1.10755 is the first level that must be broken on a daily basis and then $1.11871 as the final step in order for the bulls to change market sentiment.
We have seen what the price could do at $1.11871, which represents the ultimate resistance level for the price to change the market bias from bearish to bullish.
Trading analysis offered by
RobotFX
and
Flex EA
.
Source