Last week, we saw EUR/USD targeting $1.09860—which was realized. We also predicted that should the price break below that target, we could see it heading down to $1.08846. Sure enough, that price was easily reached as there was no bullish candle in sight. In two days the price dropped 130 pips, which was close to the EUR/USD's average pip range where EUR/USD price moves around 80 pips per day.
Then on Wednesday and Thursday, candles with a small body, but large wicks on the upper side formed. The upper side wicks told us the price had found demand at the $1.08846 target which made the price bounce upwards. But, bearish strength returned the price downward.
On the down side we had small wicks where bearish pressure pushed the price below $1.08846. Each day's price closed the day below the previous day's candle close price. That showed bearish strength again which culminated on Friday.
At the end of last week, EUR/USD price broke further downward, almost reaching $1.07825, which we mentioned in our previous analysis as a potential target if the price were to break below $1.08846.
The pair's price formed a bullish Pin bar with the candle body which closed below the previous day's candle close.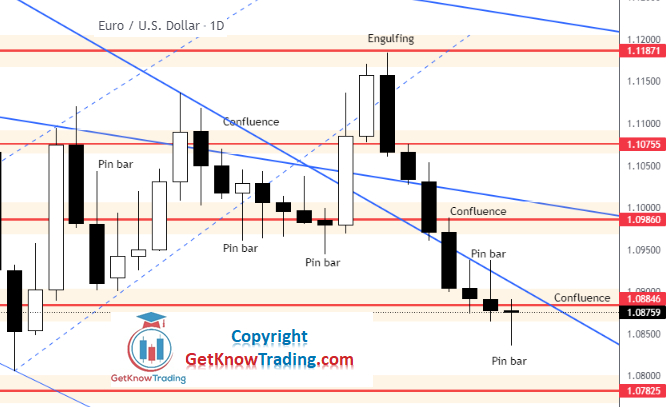 EUR/USD Forecast 9.4.2022
Because the candle on Friday closed below the previous day's candle close, we're inclined to see the price move down even more. The final target—a strong support target—for the price is at $1.07825.
If we take a look at the history chart, we can see this level as a strong support. It previously held the price from falling further down, so we can expect the same scenario now.
Currently, EUR/USD price is not in the demand zone, at time of writing trading around $1.08846 and showing a bullish Pin bar. That Pin bar is in a good position to enable price retracement possibly to $1.09860—current resistance—but the previous week does not show too much space for that move.
The currency strength meter shows USD strength weaker than the previous week, so this is a signal that we should take into consideration.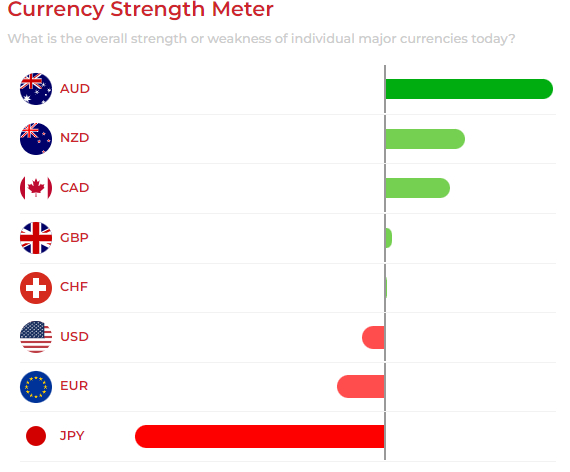 EUR/USD Currency Strength
We have downtrend channel resistance with a horizontal resistance line that will pose an obstacle for the price to move higher.
On Monday we will see where the price will move, which could give us an indication as to what the price action will be like for the rest of the week.
To cancel this bearish sentiment characterizing the month, we would need to see a return above $1.09860 during the next two weeks, and then a break above $1.10755. Those two levels are crucial for bulls if they want to stop this sell off.
Trading analysis offered by
RobotFX
and
Flex EA
.
Source