US stock index futures rose on Tuesday, completely ignoring yesterday's statements by Federal Reserve Chairman Jerome Powell about the prospects for an interest rate hike. Dow Jones Industrial Average futures rose about 140 points or 0.4%. S&P 500 futures gained 0.2%, while Nasdaq 100 futures were virtually unchanged.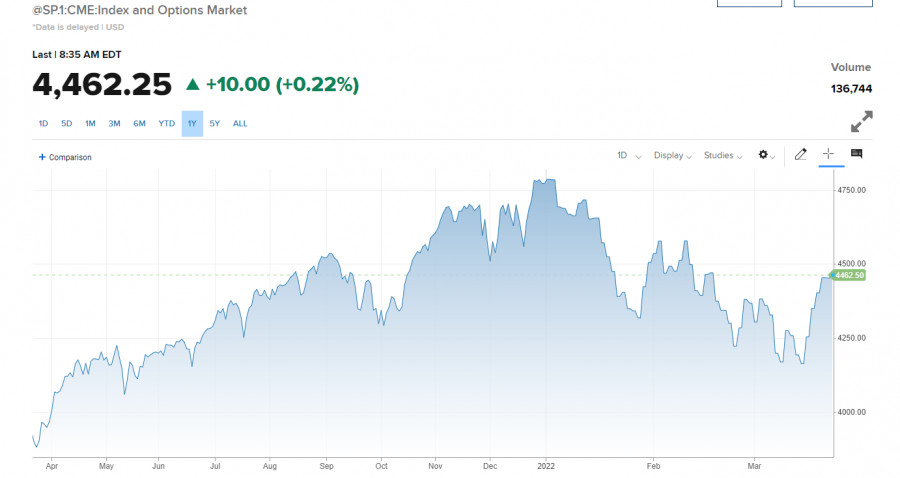 Yesterday, the regular session ended with a speech by the head of the Fed, who touched on the extremely important topic of interest rates in the United States. Powell said that the Central Bank is ready to raise interest rates by half a percent at its next meeting, but on condition that it is necessary. Jerome Powell's more aggressive tone on containing inflation is very different from the one he used just a few days earlier when talking about the Central Bank's plans for monetary policy. New internal data on the state of the economy forced the head of the Fed to make such statements to prepare the markets for the planned more aggressive changes.
Against this background, some market participants have raised their expectations regarding the growth of rates. Goldman Sachs has changed its forecast and already expects an increase of 50 basis points at once at meetings in May and June. UBS is also betting on a more aggressive approach. "We think the chances of a 50 basis point interest rate hike will continue to grow," said Jonathan Pingle, chief US economist at UBS. Against this background, the yield on 10-year US Treasury bonds rose to the highest level since 2019 and is now above 2.35%. Next, the shares of banks rose, for which an increase in interest rates is equivalent to an increase in income. JPMorgan and Bank of America were up about 0.8% in premarket trading.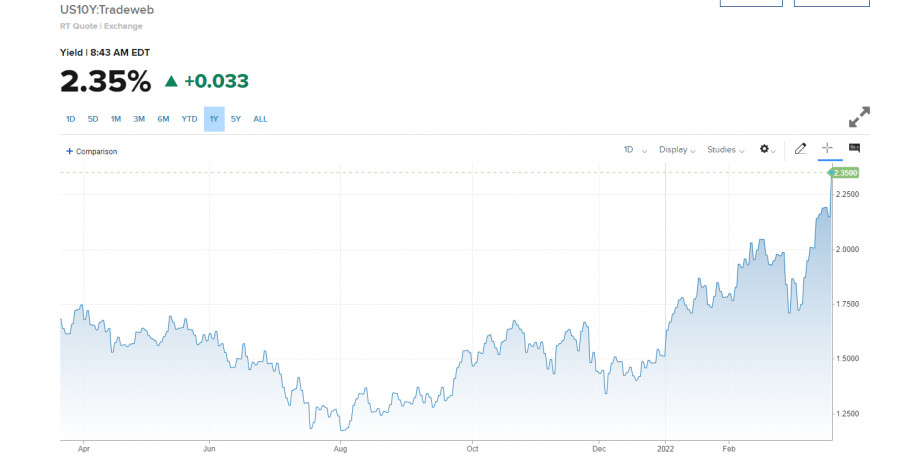 Investors also continue to monitor the situation in Eastern Europe. Yesterday, US President Joe Biden said that, in his opinion, Russian President Vladimir Putin "pressed his back to the wall" because the war with Ukraine has reached a deadlock.
Premarket:
Nike shares rose after reporting quarterly earnings of 87 cents per share, up 16 cents from estimates. Revenue also exceeded estimates, helped by the growth of digital sales. Nike jumped 6.3%, while its competitor Foot Locker rose 1.4%.
Alibaba's securities also rose seriously in the premarket after the news that the company increased its share repurchase program to $ 25 billion - this was the largest buyback for the Chinese e-commerce giant. Alibaba shares rose 8% in premarket trading.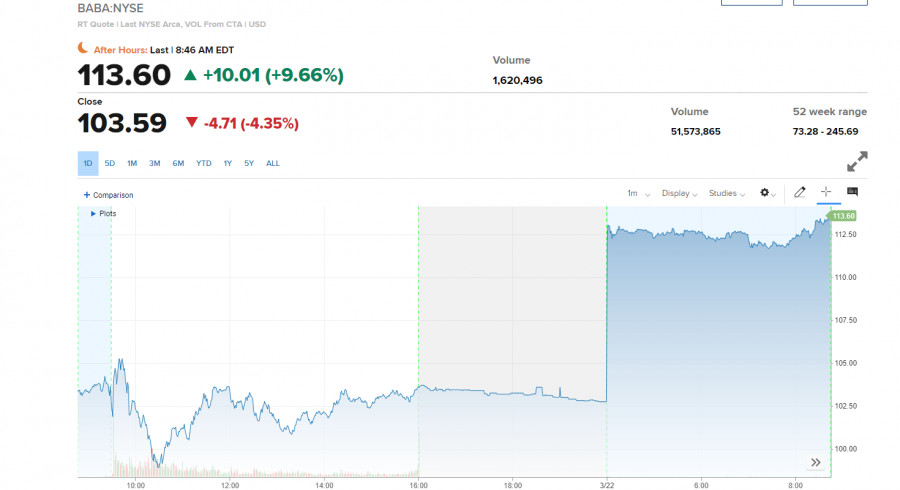 Tencent Music shares rose 4.5% in premarket trading after the company reported a higher-than-expected quarterly profit.
Shares of Paramount's office-focused real estate investment fund rose 1.9% in premarket trading after it rejected a takeover offer from asset management company Monarch Alternative Capital. Paramount said the $ 12 per share offer significantly undervalues the company but said it remains open to any offers.
As for the technical picture of the S&P 500
Yesterday's rise above $ 4,433 indicates a continuation of the bullish rally, which can be expected today. Bulls will certainly try to continue the uptrend, which will lead to an update of $ 4,488. Going beyond this level will open a direct path for the trading instrument to the highs: $ 4,539 and $ 4,588. In case of a return of pressure on the index, the first support level will be seen at around $ 4,433. If there are no particularly willing to buy there, a breakdown of this range can quickly dump the trading instrument to the lows: $ 4,382 and $ 4,319, after which the bulls will have to start all over again.
Trading analysis offered by
RobotFX
and
Flex EA
.
Source