US stock market futures fell early on Monday after three straight days of gains. Dow Jones futures decreased by 215 points, while S&P 500 and Nasdaq 100 futures lost 0.7%. Yesterday, US indexes closed in positive territory despite losing ground during the premarket.
Investors are cautious about buying risky assets at their current highs amid Russia's ongoing war against Ukraine. Today, Russia's president Putin had a phone call with German chancellor Scholz. Putin has accused Ukraine of stalling peace talks with Moscow by "putting forward more and more unrealistic proposals", while Moscow remained committed to "continue searching for a solution in line with its well-known principled approaches," the Kremlin said in a readout of the call.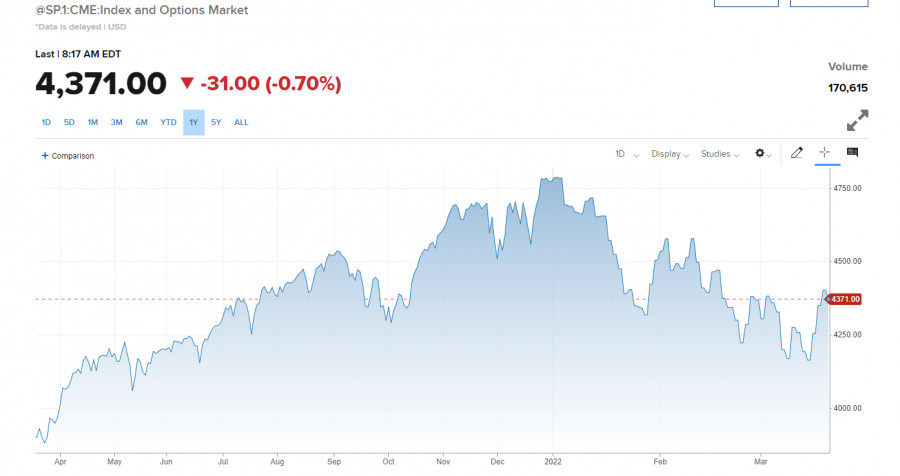 Yesterday, the Bank of Russia paid a $117 million interest payment on government bonds in US dollars, avoiding a default. Earlier, the regulator stated it would make its bond payments in Russian rubles and not US dollars.
Premarket movers
Shares of FedEx lost 3.1% after the company reported adjusted earnings of $4.59 a share, below projected $4.65 in per-share earnings. The delivery service's sales exceeded expectations, but the company's profits were constrained by a lack of workers due to the Omicron strain of COVID-19.
US video game retailer GameStop reported a surprise loss in the fourth quarter of, despite net sales being ahead of expectations. CEO Matt Furlong said the company's operations during the holiday season were disrupted by the Omicron strain and supply chain disruptions. Shares of GameStop lost 7.6% during the premarket.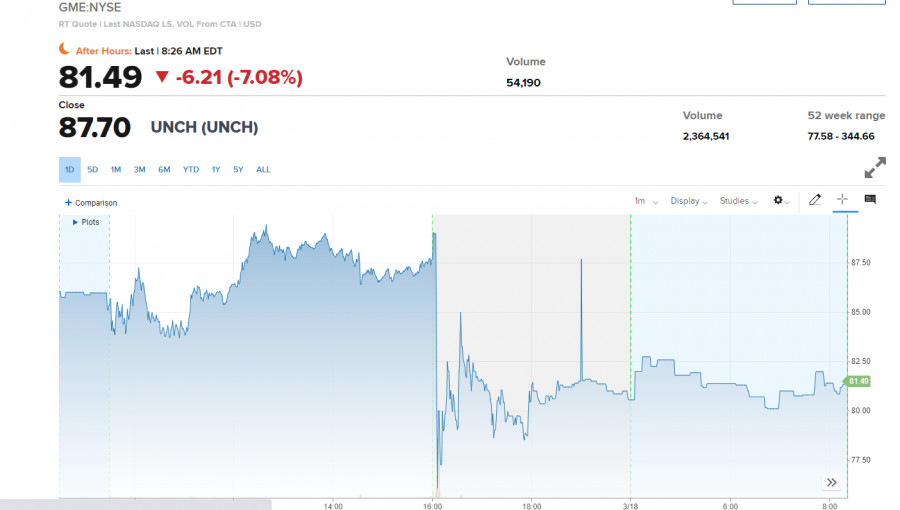 US Steel stock fell by 3.6% on a weaker than expected earnings outlook for the next quarter.
In the pharmaceutical sector, shares of Moderna added 1% during the premarket. The company is seeking FDA approval for a second booster shot of its Covid-19 vaccine for adults aged 18 and older. Earlier, Pfizer and BioNTech sent a request for approval of their own second booster shot as well.
On the technical side, yesterday the S&P 500 rose to $4,383, suggesting the index could perform well today. Bullish traders are expected to steer the S&P 500 towards testing $4,433. A breakout above this level would open the way towards the highs at $4,488 and $4,539. If there's low demand for opening long positions near $4,383, the index could break through it downwards and plunge towards the lows at $4,319 and $4,265, nullifying the efforts of bulls.
Trading analysis offered by
RobotFX
and
Flex EA
.
Source