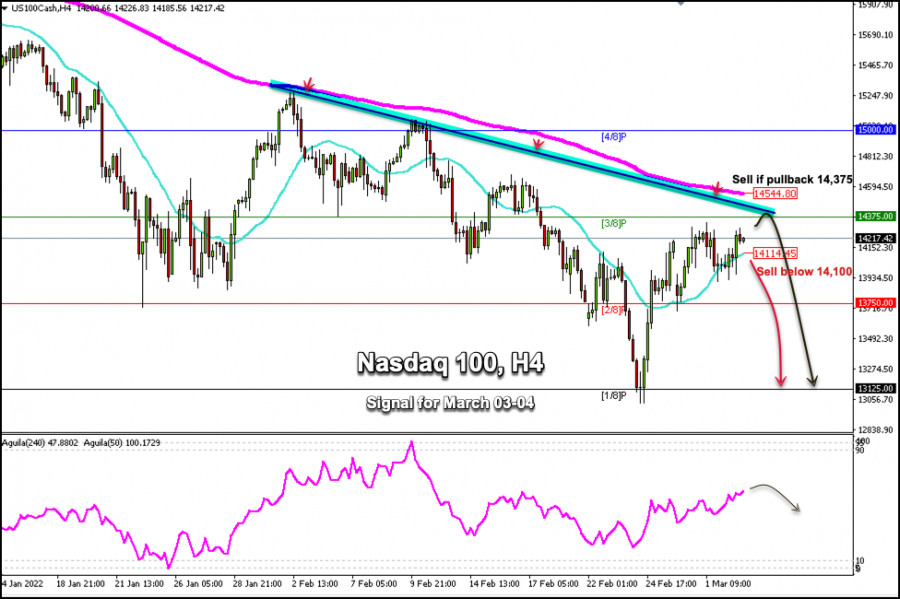 The high-tech index Nasdaq-100 (#NDX) picked up strength throughout the American session after Federal Reserve Chair Jerome Powell signaled the central bank would likely raise interest rates less than some investors had feared.
Investors remained on edge as reports Wednesday indicated that Russian forces penetrated Kherson and have surrounded Mariupol, two key cities in the southern part of the country.
Despite the geopolitical events, the NASDAQ-100 is showing resilience and is approaching the resistance zones of 14,375 and heading towards the 200 EMA at 14,544.
The overall trend is bearish according to the 4-hour chart. However, momentum has been trending higher since February 24.
The low reached around the level 13,031 on February 24 is giving the Nasdaq-100 strength and we saw a rally of over 1200 points so far. A technical correction below SMA 21 at 14,100 is likely in the coming days.
A trade through 13,031 (1/8 Murray) will signal a resumption of the main downtrend. A move through 14,544 (200 EMA) will change the main trend to bullish.
As long as the NASDAQ trades below the 200 EMA (14,544) and below the 4/8 Murray, it is likely that only the move higher will be considered a technical correction to resume the downtrend.
Our trading plan is to wait for a pullback towards the resistance area at 14,370 (3/8), or towards the top of the downtrend channel to sell. On the other hand, a close on the 4-hour chart below the 21 SMA will be considered an opportunity to sell with targets at 13,750 (2/8) and 13,125 (1/8).
Support and Resistance Levels for March 03- 04, 2022
Resistance (3) 14,734
Resistance (2) 14,513
Resistance (1) 14,357
----------------------------
Support (1) 14,137
Support (2) 13,981
Support (3) 13,750
***********************************************************
Scenario
Timeframe H4
Recommendation: sell if pullback
Entry Point 14,375
Take Profit 13,750; 13,125
Stop Loss 14, 550
Murray Levels 15,000(4/8), 14,375(3/8) 13,750(2/8), 13,125(1/8)
***************************************************************************
Trading analysis offered by
RobotFX
and
Flex EA
.
Source