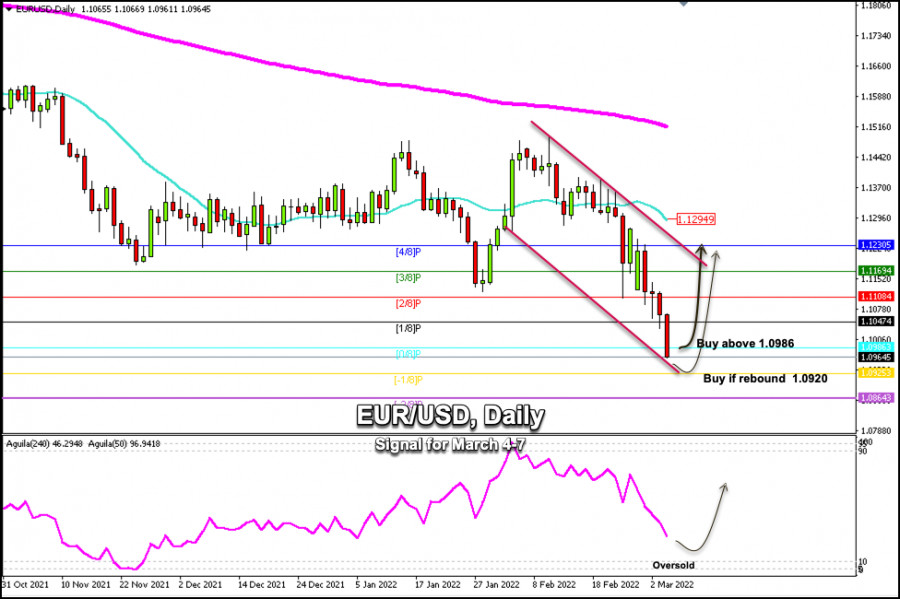 EUR/USD has been falling non-stop to the levels last seen in June 2020 in the area of 1.0964.
The fall of EUR/USD below the psychological mark of 1.1000, today on Friday, is due to the concerns about the Russian invasion of Ukraine.
This is the centerpiece of the political debate. In an increasingly deteriorated geopolitical scenario, the Euro could tumble towards the 1.0864 zone of -2/8 Murray in the short term, but first we expect a technical rebound.
On the other hand, the dollar index (USDX) reached new highs above 98.50, always supported by growing risk aversion in a framework where tensions due to the military conflict in Ukraine continue to increase.
US NonFarm Payrolls will be released in the next few hours. EUR is likely to reach the key level of 1.0925 -1.0900, the zone of -1/8 Murray.
The nonfarm payrolls are expected to increase by 400,000 and the unemployment rate to drop to 3.9%. If this data is worse than expected, it would be negative for the US dollar, but the euro could recover part of its losses and reach the psychological level of 1.1000.
According to the daily chart, the Euro is trading below 0/8 Murray and approaching -1/8 Murray at around 1.0925. We can also see a downtrend channel that has formed since February 10th.
The euro could find strong support at 1.0920 or 1.0864 and it will be an opportunity to buy during a technical bounce, with targets at 1.0986 and continue buying over the next few days to 1.1230.
Support and Resistance Levels for March 04- 07, 2022
Resistance (3) 1.1073
Resistance (2) 1.1025
Resistance (1) 1.0970
----------------------------
Support (1) 1.0925
Support (2) 1.0864
Support (3) 1.0836
***********************************************************
Scenario
Timeframe H4
Recommendation: buy above
Entry Point 1.0920
Take Profit 1.0985; 1.1084
Stop Loss 1.0860
Murray Levels 1.0925(-1/8), 1.0985(0/8) 1.1047(1/8), 1.1108(2/8)
***************************************************************************
Trading analysis offered by
RobotFX
and
Flex EA
.
Source