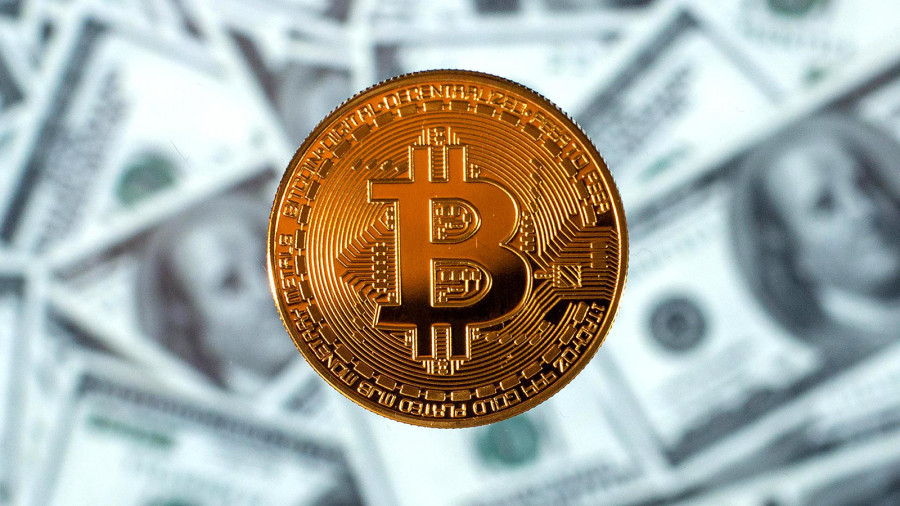 On the 24-hour TF, the technical picture for bitcoin looks bad too. The price bounced three times from the important level of $ 45,408 and the Fibonacci level of 61.8%, which is currently located below the Ichimoku cloud. All this suggests that the fall will continue, at least, to the previous local minimum of $ 34,400. However, we have been expecting for several months to fall to the minimum of last year – $ 31,100. The fact that bulls cannot overcome important levels and the very fact of a four-month drop indicates a "bearish" trend. How can we not remember that any "bullish" trend always ended with a drop of 80-90%. Thus, bitcoin still has a place to fall.
Forecasters continue to believe in growth.
Nevertheless, even in the period when bitcoin is frankly falling, some people continue to declare its growth in the near future. For example, the head of the consulting company "deVere Group" Nigel Green said that bitcoin will grow to $ 50,000 by the end of this month. He believes that the conflict in Ukraine is the cause of serious financial turmoil for all markets, so many will look for alternative investments. Green probably means that all investors who have left Russia and Ukraine will have to transfer their funds to other instruments. Although, from our point of view, it is the turmoil in Ukraine and Russia that will have to discourage investors from risky markets for a long time. Green also believes that bitcoin is a viable, decentralized system that is well protected from unauthorized access, trust in bitcoin is growing, more and more institutions are joining.
But the head of SkyBridge, Anthony Scaramucci, believes that bitcoin will grow to the notorious $ 100,000 mark by the end of 2024, which, from our point of view, is already a real forecast, not a fantasy. But there is one "but". Scaramucci owns at least $1 billion worth of bitcoin. This means that he is interested in the growth of its value. If you had bitcoins for a large amount and you understood that the more people believe in its growth, the more it grows, what would you say and what forecasts would you give? Therefore, we believe that the forecasts of interested individuals should be treated with great skepticism.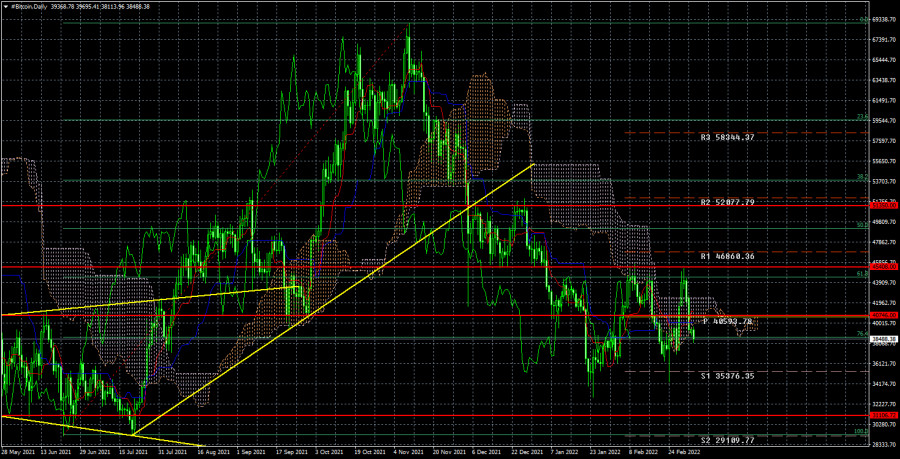 On the 24-hour timeframe, the quotes of the "bitcoin" failed to overcome the level of $ 45,408 and began a new round of downward movement within the framework of the downward trend that has been observed for 4 months. There are no obstacles on the way to the $31,100 level. If traders manage to overcome it, then the drop in quotations of the "bitcoin" will continue almost guaranteed. Geopolitics continues to deteriorate, so there are fewer reasons for bitcoin to grow, too.
Trading analysis offered by
RobotFX
and
Flex EA
.
Source