In our previous analysis, we mentioned that we could see the EUR/USD price returning back down to $1.09860, which is support for the price. And the price has done that.
On Monday, bearish candles formed and on Tuesday a bullish Pin bar. Monday showed us the direction of the week, where the price continued moving down to the first support level.
We also mentioned that if the price creates a bullish price action signal around $1.09860, that would be an indication the price will move up and we can enter the market, and sure enough, the price formed a bullish Pin bar on Tuesday, giving us the entry signal. A Pin bar formed on the support level and on the uptrend line of the short uptrend channel that is visible on the chart.
This gave us a strong wick reaching the support level and a small body that was still inside a short uptrend channel.
On Wednesday, the price had a hard time moving up and formed a bearish candle where the day closed below the previous candle body. This gave us a small indication the price had some trouble moving higher. And the wick on the candle reached almost the same low level as the candle the day before.
Thursday EUR/USD once again formed bearish candles, with the price closing below the previous candle body, suggesting the price had some problems. Then on Friday, we had a candle with a large wick on the upper side almost reaching the downtrend channel line which is currently resistance. From there, the price slid back down to where the day ended—below previous candle lows.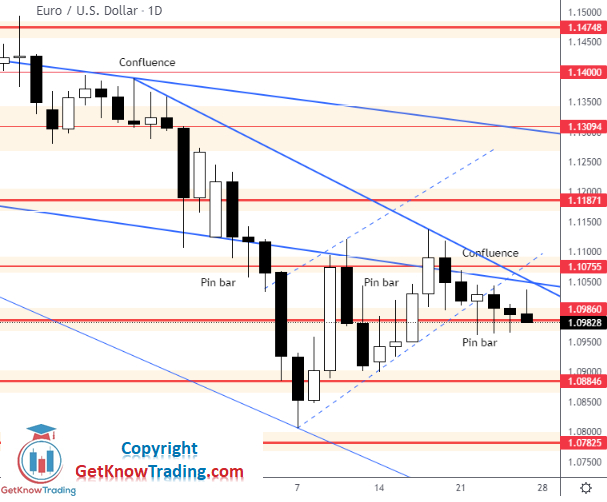 EUR/USD Forecast 26.3.2022
Based on the previous week's closing price, the outlooks suggests further decline since each day had closed below the previous day, which means the pair were having difficulty maintaining at higher levels.
However, because the candles are small, and we see wicks on both upper and lower sides, the price is currently in the indecision area. It's squeezing and we could see strong moves when the price breaks outside. On the down side, we have $1.09860 as support, then targeting $1.09000. On the upper side, we have $1.10755 as resistance, targeting $1.11871.
The chart shows us that since Tuesday, the price is lying outside a small uptrend channel which means it has lost bullish momentum. We also have a small triangle that broke above, but there was no confirmation of the breakout. Instead the price dropped, closing the day below the previous day's candle body.
This time, we'll wait until Monday to see what the price will do. If the price breaks below $1.09860, watch for a further decline. If it breaks above, $1.10755 becomes the target.
Trading analysis offered by
RobotFX
and
Flex EA
.
Source