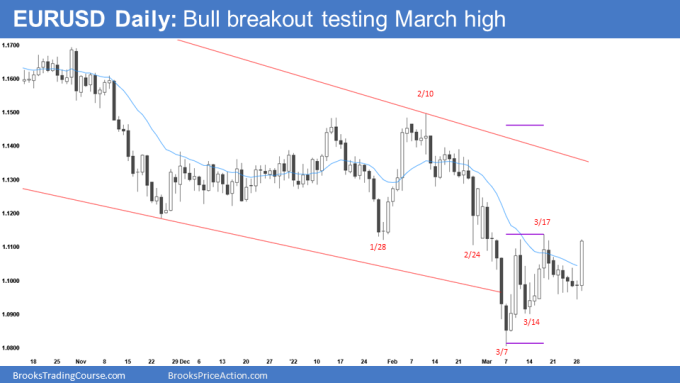 EUR/USD Daily Chart
EUR/USD bears are currently giving up on the idea of a double top at the 3-month trading range low, which is why the daily chart has a big bull bar today.
Currently, the odds favor a bull breakout above the March bear flag and a test of the 3-month trading range and the top of the large bear channel line.
Bulls want today to close near its high, which would increase the odds of follow-through tomorrow.
I have been saying that the bears needed to get follow-through after the March 21 double top stop entry, and while the bears had a tight channel, it was becoming difficult for the bears to stay short.
This means that as the market was going down to March 28, the bear bars were getting weaker, which is the opposite of what a bear wants, which is why the bears gave up on the open of today.
Overall, traders should expect a test of the March high and for the bulls to try and break above the March bear flag and try for a measured move up. The bulls need consecutive strong bull bars to convince traders that the market will reach the February high.
Trading analysis offered by
RobotFX
and
Flex EA
.
Source