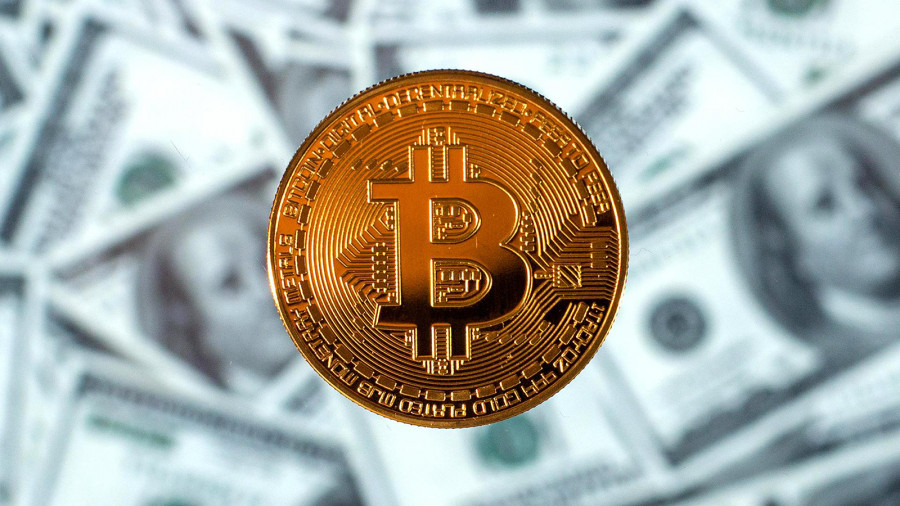 So, at the moment, we have the following. The bitcoin cryptocurrency has grown to an important level of $ 45,408, as well as to another important Fibonacci level on the 24-hour timeframe of 61.8%. And at the moment, it has bounced back from both of these levels. A fall has begun, which may be an "acceleration" before a new attempt to overcome these levels, or maybe it is a new round of falling. It will be better to talk about a new fall after the price is fixed below the ascending trend line on the 4-hour TF, or after the consolidation below the critical line occurs on the 24-hour TF. However, in general, the daily chart still shows a downward trend, despite the growth in recent weeks. Moreover, the trend is quite strong. The "bitcoin" failed to overcome the Ichimoku cloud. Thus, so far everything looks very much like a banal correction within the framework of a downward trend. If so, the fall may resume with a target of $ 31,100.
Geopolitical tension in Europe may cause a new drop in bitcoin.
As we said earlier, bitcoin depends on many factors and almost the main one among them is the investor sentiment factor. Roughly speaking, if the majority of investors decide to buy bitcoin for any reason or even without it, then it will grow, whatever happens in the world. However, at this time, there is a new "dangerous" factor. The factor of geopolitics. It's no secret that investors are smart and timid people (which is hardly a reproach to them). They worry about their capital and even when inflation is rising in the United States, they are ready to buy cryptocurrencies just to protect them from depreciation. What can I say, if a war, or a military operation, or a blockade begins in Eastern Europe, you can call what is happening whatever you want. The point is that many investors may regard these events as a threat. And when there is a threat, it is necessary to transfer assets from risky to safe. And it is very difficult to find a riskier asset than bitcoin. This cryptocurrency can rise in price or fall in price by $ 10,000 in a day. There are plenty of such examples. If one tweet from Elon Musk on a social network is enough for bitcoin to grow or fall in price by $ 5,000 per day, then what could happen if geopolitics worsens? We certainly believe that there will be no conflict and the parties will be able to resolve all problems through diplomacy. But the last decades have already shown many times that wars continue, as they have continued throughout the history of mankind. And you can call them whatever you want, the essence does not change from this. This means that the markets will react.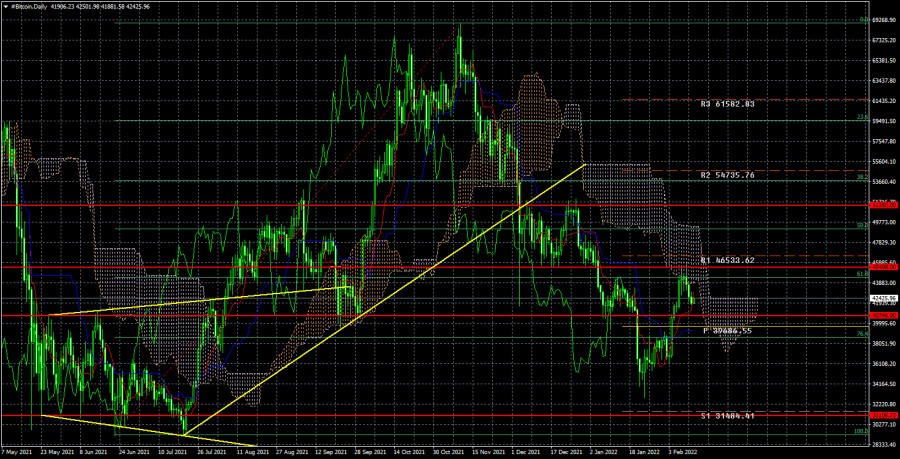 On the 24-hour timeframe, the quotes of the "bitcoin" are fixed below the ascending trend line, so at this time we have a "bearish" trend. The fact that bitcoin failed to gain a foothold above the Ichimoku cloud restrains growth, and the fundamental background now remains not in favor of the cryptocurrency market. Therefore, we are still inclined to the option with a new drop of the "bitcoin".
Trading analysis offered by
Complex Trader
- a
RobotFX
partner.
Source