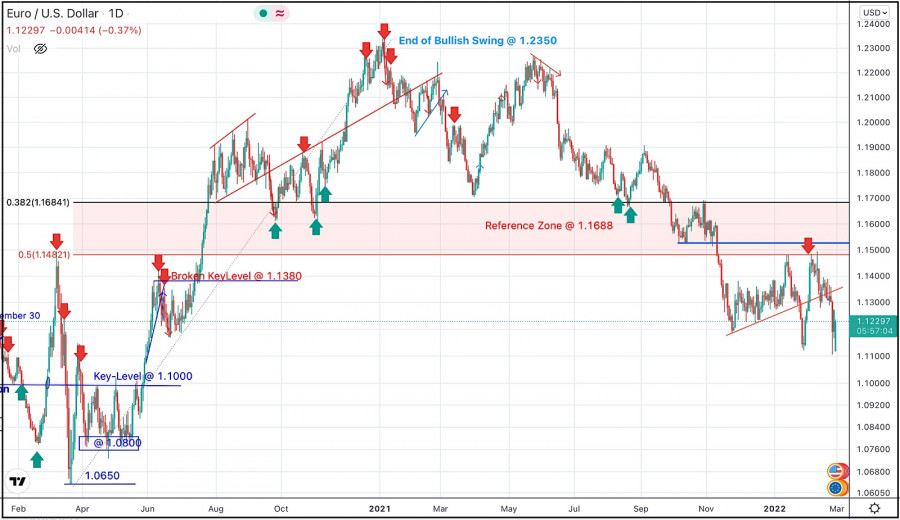 The bullish swing that originated around 1.1650 in August, failed to push higher than the price level of 1.1900. That's why, another bearish pullback towards 1.1650 was executed.
However, extensive bearish decline has pushed the EURUSD pair towards 1.1600 and lower levels was reached.
Shortly after, significant bullish recovery has originated upon testing the price level of 1.1570.
The recent bullish pullback towards 1.1650-1.1680 was expected to offer bearish rejection and a valid SELL Entry.
Significant bearish decline brought the EURUSD pair again towards 1.1550 levels which stood as an Intraday Support zone.
Hence, sideway movement was demonstrated until quick bearish decline occurred towards 1.1200 where the current sideway channel was established.
On the other hand, the price levels around 1.1520 stands as a reference zone that provides a valid SELL Entry when bullish momentum fades away.
Bearish decline below 1.1300 should be considered as a bearish continuation sign. If so, downside movement should be expected to proceed towards 1.1000.
Trading analysis offered by
RobotFX
and
Flex EA
.
Source