price started the week with weak bearish candles that closed close to support at $1.14000—the support level mentioned previously when we discussed the price's anticipated retrace.
The retrace occurred after a strong bullish move a week before, so the price found a large supply zone that returned the price back to its first support level. That was its confluence level on the downtrend channel line that was supporting the price from falling further.
On Thursday, EUR/USD experienced a large market move which saw the formation of an indecision candle. However, the candle formed large wicks breaking above the resistance level at $1.14748 and below $1.14000.
It was a market testing candle where bears took over and pushed the price below $1.14000. The candle was showing us bear strength, triggered on Thursday, after the price broke above $1.14748.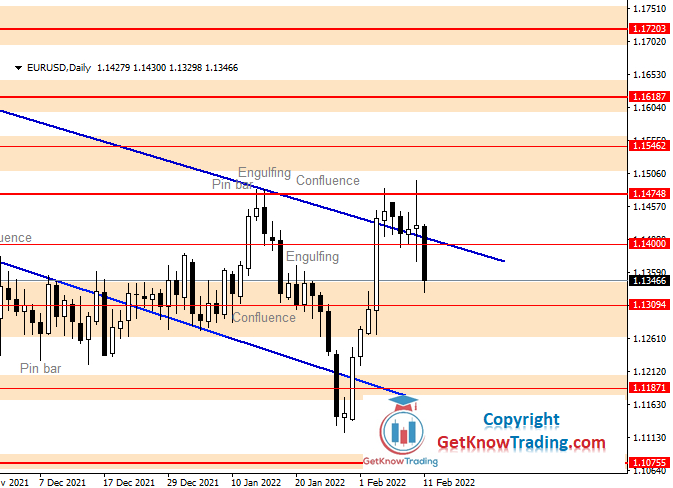 EUR/USD Forecast 12.2.2022
At time of writing, price is now stopped at the demand zone close to the $1.13000 support level. It is also an upper side of the previous range where the price was locked for a long time.
We can expect the price to reach the support level at $1.13000 and from there we need to see what happens. There is a good chance we will see the price bouncing back up.
That is the support level where the demand zone is and where bulls will push the price higher. As a first step it is good to wait to see how the price will behave at this support level.
If the price creates bullish candles or price action candles suggesting a move up, like a bullish Pin bar or Engulfing bar, then we can say the bulls are trying to make a move upwards.
But if the price comes to $1.13000 with bearish candles without bull's strength, then we can expect the price to reach the $1.11871 support level.
The price needs to close above $1.14000 to continue its bullish move; or move below $1.11871 to continue its bearish direction.
Currently, the market is in an indecision area which is good to avoid in order to prevent false trading signals.
Trading analysis offered by
Complex Trader
- a
RobotFX
partner.
Source