Last week, charts were reflecting a market turnaround, where bears lost their strength against bulls. Starting on Monday, it was a take over by the bulls, who pushed the price back into the downtrend channel.
The next two days saw smaller bullish candles appear which represented the fight going on between bulls and bears. On Wednesday, a candle with a wick on the upper side formed right on the resistance level at $1.13094.
Thursday had the price retraced back down to the bottom of the demand zone and then returned back up. That retrace was visible as a wick on the bottom side.
After reaching the bottom side where the demand zone was, the price moved strongly north, breaking resistance level at $1.14000. The price stopped on the previous candle high and on Friday the price reached strong resistance at $1.14748.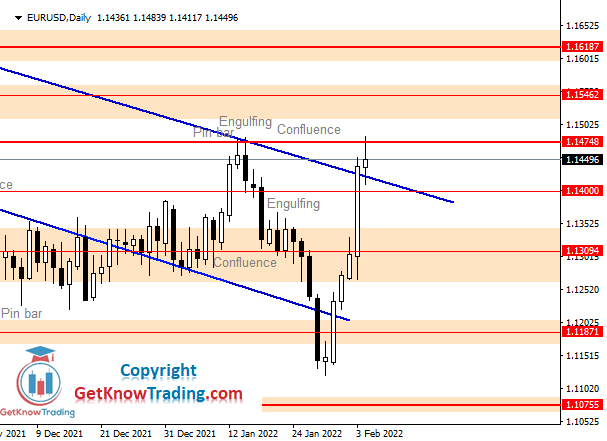 EUR/USD Forecast 5.2.2022
EUR/USD price is close to the scenario where the market shifts from completely bearish market sentiment to bullish sentiment. Within five days the pair erased all indecision which was visible in the price range area, in short: a bullish breakout and a short bearish breakout from the price range.
That means the price has strength to fight against any bearish pressure so we can expect to continue moving up.
The week did not end up with a Friday candle closing above previous candle closings, but I think that will happen on Monday. Friday had a small retrace after reaching the resistance level at $1.14748, but the candle looks healthy for the next bull move. Price is not outside of the downtrend channel and in the confluence of resistance.
If the price manages to close above $1.14748 and then $1.15462, we can say the market is in bullish sentiment. Since these two levels represent the supply pressure where bears have strength, if the price manages to close above we will see a higher price.
$1.16187 is the level for bulls which has held the price from falling, so I would like to see EUR/USD above that price to confirm bull strength.
Trading analysis offered by
Complex Trader
- a
RobotFX
partner.
Source