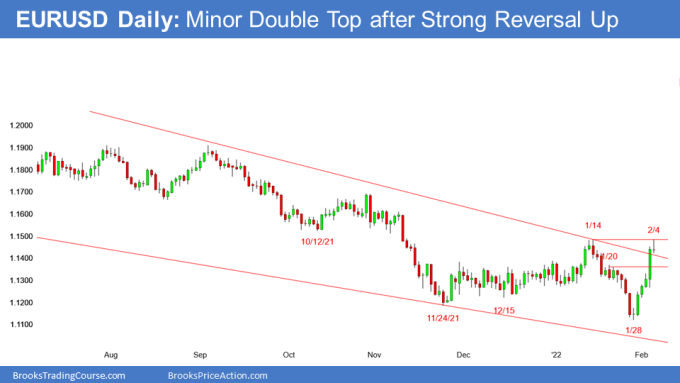 EUR/USD Daily Chart.
– Yesterday was another big bull day, and it closed above the top of the year-long bear channel.
– I have been saying for a couple months that a breakout below the November/December trading range would fail. This is because a tight trading range late in a bear trend is typically the Final Bear Flag.
– Additionally, I have been saying that the rally should last at least a couple months.
– Targets above are the Jan. 14 lower high, and then breakout points on the day. These include the Oct. 12 low, the Nov. 4, 2020, low, and the March 2021 low.
– Another target is a 50% retracement of the 2021 bear trend.
– Will this rally reach all of the targets? Maybe. It's 50-50 right now.
– But if next week is a bull bar on the weekly chart closing on its high, there would be a 60% chance of a breakout above the November 2020 low. That was the bottom of a year-long trading range within the seven-year trading range. When a market reverses in a trading range, it usually goes beyond breakout points.
– Can the bears create a double top bear flag with the Jan. 14 high? Today's high so far is a fraction of a pip above that high, and today currently is near the low of the day.
– They will try, but the rally has been strong enough so traders will buy the first reversal down. Therefore, the bears will need at least a reversal down from a micro double top next week before they would have a 50% chance of a reversal down to below the January low.
– What if Russia invades Ukraine? It would hurt Europe and probably the , but it would also hurt the U.S. and possibly the dollar. It is too early to tell what the EUR/USD will do.
– There is only a small chance of Russia invading while the Winter Olympics are going on. Putin cannot risk alienating Xi.
Trading analysis offered by
Complex Trader
- a
RobotFX
partner.
Source