No less than six Fed officials have spoken publicly during this week thus far. Not a single one has supported the recent market narrative pricing in a 50 basis point increase in March, and St. Louis Fed President James Bullard, considered the most aggressive member of the group from a policy perspective.
Accordingly, Treasury yields eased, with the rate losing one basis point. The declined for a third straight day.
Should traders start readjusting their FX portfolios? Although the Fed has been known to backtrack on its initial, decisive rhetoric if it proved to have been premature, we don't think the currency markets are about to reverse just yet.
We'll readjust our expectations once the technicals support a break lower. Right now, here's what we're seeing on the chart.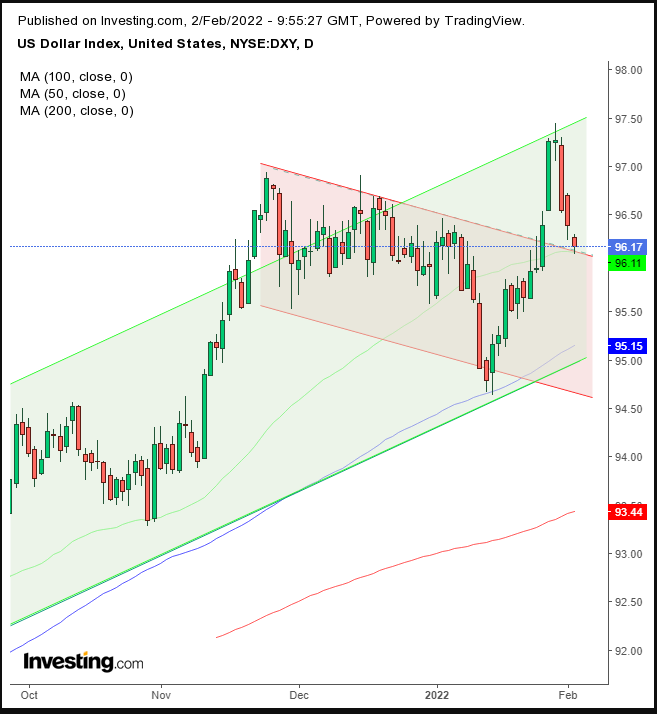 Dollar Daily
Based on the daily chart, the dollar's decline is far from changing the course of the overall uptrend. We would begin expecting a reversal only when the USD falls below the uptrend line since the May 2020 bottom.
As far as we're concerned, this current move lower is nothing more than a corrective dip within a rising trend, clearly marked by the rising green channel.
Moreover, the dollar peaked below the falling channel since the Nov. 24 high and rebounded, confirming its support.
Once broken through, the 50 DMA joined the top of the falling channel and turned bullish. The 100 DMA reinforces the bottom of the rising channel, whose underside is the uptrend line since the aforementioned bottom.
Trading Strategies
Conservative traders should wait for a long position if the price returns and finds support by the rising channel, at about 95.00, according to the current angle of ascent.
Moderate traders would go long after the development of a long green candle.
Aggressive traders could go long now or according to a trading plan that incorporates their timing, budget, and temperament. Here is an example of the basic parameters for a coherent strategy:
Trade Sample - Aggressive Long Position
Entry: 96.10
Stop-Loss: 96.00
Risk: 10 pips
Target: 97.10
Reward: 100 pips
Risk-Reward Ratio: 1:10
Trading analysis offered by
Complex Trader
- a
RobotFX
partner.
Source