In the current situation, the dominance of the largest bitcoin holders is growing in the cryptocurrency market. The incoming figures confirm the dynamics of the accumulation of coins by whales. Large Bitcoin addresses containing at least 100,000 coins have now accumulated a total of 664,000 BTC.
Statistics confirm the accumulation
The analytical firm Santiment has provided data, which states at least three addresses hold more than 100,000 bitcoins. Despite the fall in the price of Bitcoin, over the past 6 weeks, the total amount of assets at these main addresses has increased.
"Bitcoin's top addresses with 100k+ coins currently hold 664k BTC after sitting at just 260k BTC in Feb 2021. There are currently 3 addresses of at least this size. They held an All-Time High of 693k BTC in late June, just prior to prices surging," Santiment said.
Amid the rise in BTC holdings, one of the crypto addresses moved about $132 million worth of bitcoins. According to Whale Alert, the BTC wallet transferred 3,000 coins to the Gemini digital exchange on February 16, 2022. The transaction was completed around 22:41 UTC.
Speculative rally or rising demand for BTC?
After recovering more than 25% since January 24, 2022, the price of the main cryptocurrency is trying to stabilize above the $43,000 level. Although the BTC hash rate reached another all-time high of 194 EH/s this week, the bulls have not been able to fully take control due to uncertain global economic conditions.
Analyst Marcus Sotiriou of GlobalBlock notes the following pattern:
"Bitcoin remains hesitant, as data shows that this recent rally was driven mostly by futures, whilst spot has been selling. We know this because the aggregated CVD (Cumulative Volume Data) for the spot has been stagnant whilst the CVD for futures has increased. This suggests that this price rise was driven by speculation or hedging rather than genuine demand. More major financial institutions are entering the space as DBS, the largest bank in Southeast Asia by assets, is planning to launch cryptocurrency trading services for retail clients this year," he said.
So will the cryptocurrency rise?
Locally, the current market situation is very dependent on correlations. Geopolitical tensions, investors' caution, and fears of a tightening of the Fed's monetary policy do not allow risky assets to determine their direction.
Now the dynamics of bitcoin and those altcoins that it pulls up with it depends on whether risk appetite rises or falls. At this time, investors are cautious, while large market participants accumulate bitcoin for holding.
Under such circumstances, it remains to take a wait-and-see attitude and focus on technical analysis. Speculative transactions, IMHO, are appropriate only in the format of small dashes.
Technically, the range 41,323.59–45,744.38 is still relevant. But trading in it is now inconvenient since BTCUSD cannot be beaten to its resistance. Perhaps, buying will be good if we see a technical rebound from its support again.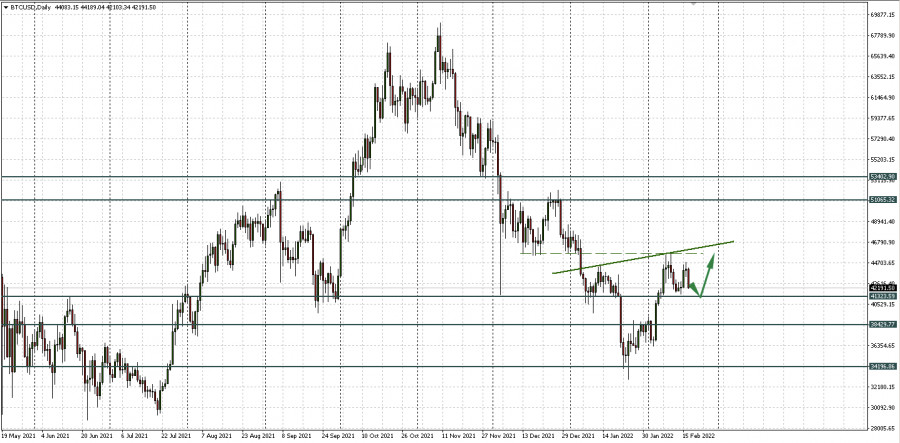 Trading analysis offered by
Complex Trader
- a
RobotFX
partner.
Source