Breaking news from the world of cryptocurrencies:
The hash rate in the Bitcoin network is now 208 million TH/s, which is higher than the last record from April 15, 2021, at 198.5 million TH/s. Blockchain company Bitfury believes that Bitcoin's hash rate has grown primarily due to the "connection of a new generation of equipment."
Why is hash rate important? The more coins are mined, the more difficult it is to find the desired hash. In this case, more computing power is needed to solve the puzzle; hence, the higher the hash rate, the greater the chance of earning a coin. Hash rate plays an important role in network security. The more miners in the network who intend to honestly mine bitcoin, the higher the degree of protection against hacking.
Now, let's continue to consider Bitcoin from the viewpoint of the Elliott theory on the hourly timeframe.
BTC/USD, H1 timeframe: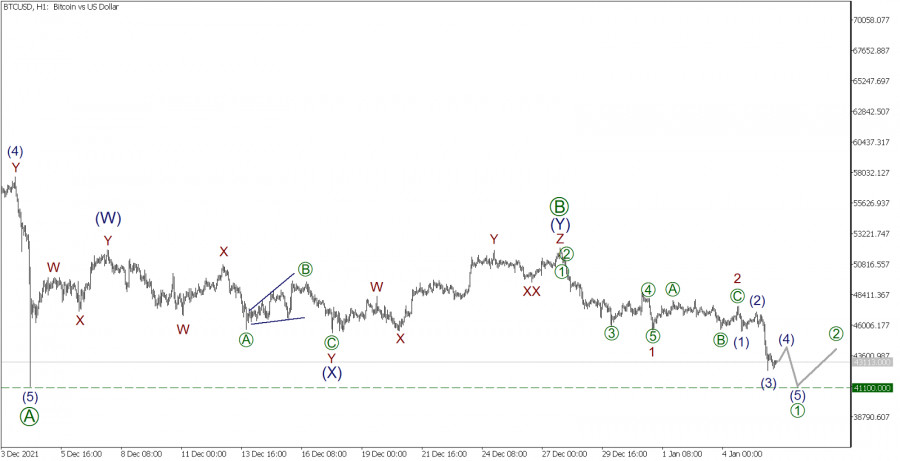 There has been some adjustment to the previous markup for the BTC/USD cryptocurrency pair. As the price continues to decline, there is a possibility that the formation of the horizontal correction [B] was completed much earlier than was expected. Correction [B] took the form of a double-triple (W)-(X)-(Y).
In the event that this assumption is correct, then the price may decline within the initial part of a new bearish wave, which is likely to take the form of an impulse 1-2-3-4-5.
Sub-waves 1 and 2 have been formed now. Wave 1 is an impulse [1]-[2]-[3]-[4]-[5], and wave 2 is a correction consisting of three main sub-waves [A]-[B]-[C]. Apparently, we are now in the initial part of the third wave, which will take the form of an impulse [1]-[2]-[3]-[4]-[5].
The final part of the first sub-wave [1] is expected to form in the near future, which is part of impulse 3. It is very possible that the price will rise slightly in a small correction (4), and then fall in sub-wave (5) to the level of 41100.00. This is the previous low, marked by a large wave [A].
An approximate scheme of possible future movement is shown on the graph.
The material has been provided by InstaForex Company -
www.instaforex.com