Futures on US stock indices rose slightly on Wednesday, as investors are counting on a less aggressive report on US inflation, although prices are expected to rise at the fastest pace in almost 40 years. Dow Jones Industrial Average futures gained 46 points, while S&P 500 futures rose 0.1%. Nasdaq 100 jumped 0.2%.
As noted above, the entire focus of traders during American trading will be on what data on the consumer price index for December of this year will be released. Economists expect CPI to grow by 7% compared to last year – the highest since the summer of 1982, and by 0.4% compared to November - this will be evidence of a slowdown in growth after a jump of 0.8%. The base index excluding food and energy is projected at 5.4% and 0.5%, respectively.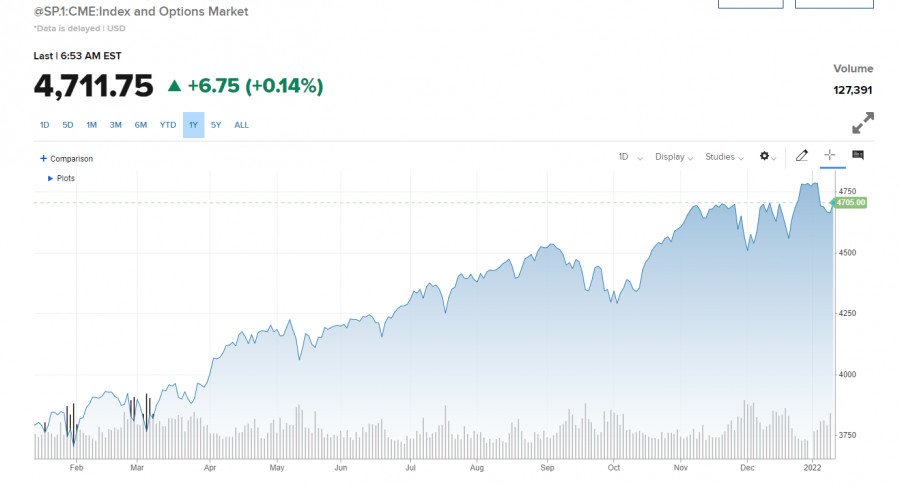 Some economists believe that inflation may show its peak value, after which its gradual decline will begin. For this reason, many will carefully consider this report for longer-term guidance in their strategies.
Yesterday, Fed Chairman Jerome Powell told Senate lawmakers that he expects interest rates to rise this year along with the end of the monthly bond purchase program in March and the reduction of the Fed's balance sheet. Powell noted that these steps will be required to regain control over inflation, but such actions do not pose a threat to the economy - it has already largely recovered from the shock caused by the coronavirus pandemic and its various waves. Powell also did not talk about how many interest rate hikes there will be this year.
The reaction of stock markets was lightning fast, as concerns related to the recent hawkish tilt of the Fed and the prospect of a more aggressive rate hike calmed down a bit, forcing investors to look at the cheaper assets.
Bond yields, which rose sharply in early 2022, also stabilized on Tuesday, with the yield on 10-year Treasury bonds falling to 1.76% after exceeding the 1.8% level earlier this week.
At the end of this week, major banks will begin the reporting season for the fourth quarter of 2021, so market volatility should remain at an acceptable level. JPMorgan Chase, Citigroup, and Wells Fargo will report. Quarterly results will be published before the market opens.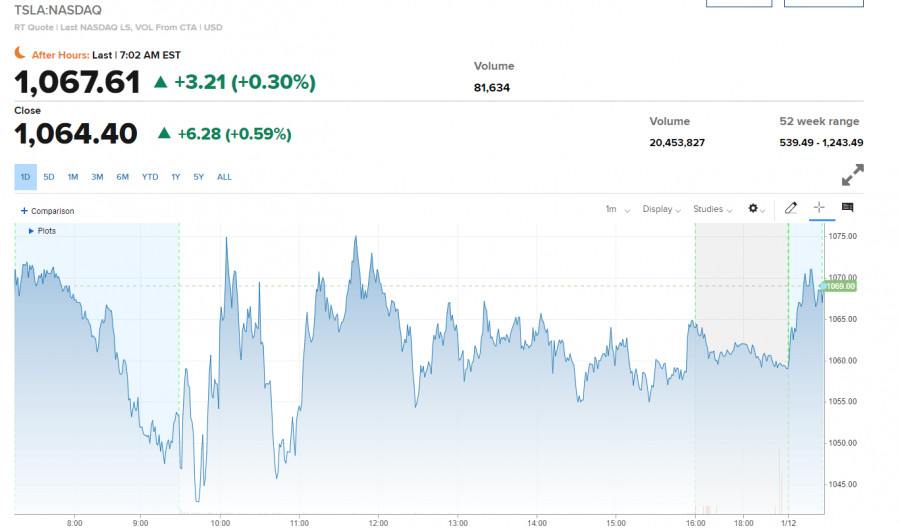 As for the premarket, Dish Network's securities are showing a satisfying large growth today, which jumped by 7.4% after the news that the company is again negotiating a merger with DirectTV. Norwegian Cruise Lines shares rose 1.9%, while Hilton Worldwide Holdings' shares rose 1.2%.
Tesla securities at the moment added 0.5% and traded at 1070, after which they rolled down a little. Apple is also trading in a small plus 0.5% after yesterday's growth of 1.68% following the results of the regular session.
As for the technical picture of the S&P 500
Yesterday, the bulls returned the level of $ 4,665 and aimed for a more active recovery above $ 4,722. Only going beyond this range will return bullish momentum, which will lead the trading instrument to a larger resistance of $4,772 and open up an opportunity to upgrade to $ 4,818. With a repeated downward movement and a breakdown of $4,665, the S&P 500 will fall to the area of $ 4,598 and $ 4,551.
The material has been provided by InstaForex Company -
www.instaforex.com