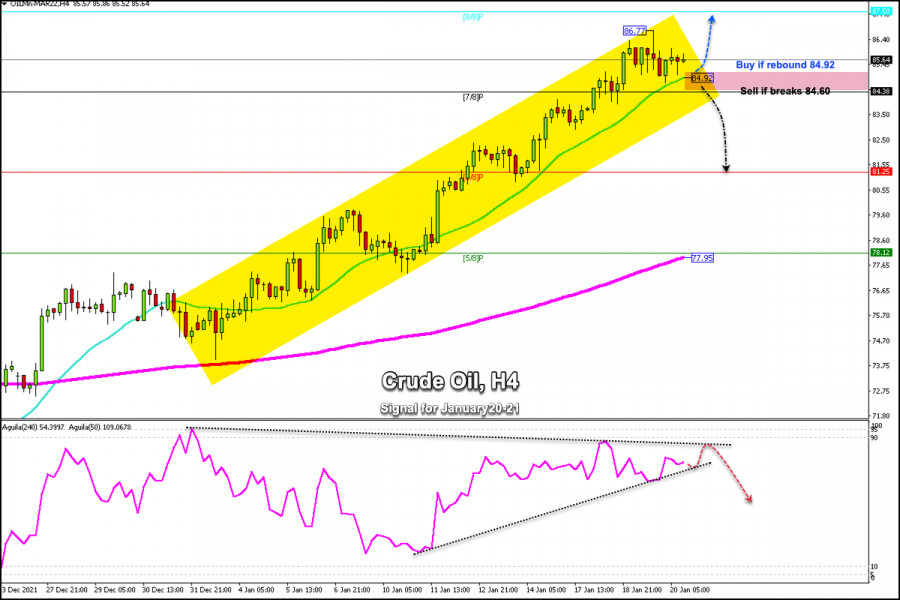 WTI (West Texas Intermediate) is trading at 85.64 after reaching a high of 86.77. It has settled above the 21 SMA and above 7/8 Murray.
According to the 4-hour chart, we can see that it is very overbought, so a technical correction is expected in the next few days towards the support 6/8 Murray at 81.25.
A break and consolidation on the 4-hour chart below the 21 SMA located at 84.92 could be a confirmation for a medium-term bearish move towards the 200 EMA located at 77.95.
The advance in oil these days is driven by concerns generated by tensions over the situation between Russia and Ukraine. United Arab Emirates, after the explosion of fuel tankers, allegedly perpetrated by Yemeni rebels, affects the production of crude oil. This could encourage crude oil to continue its uptrend towards the psychological level of 90.00 dollars per barrel.
In the American session at 11 AM, crude oil inventories will be published. Analysts expect a decrease of -2.1 M. If the actual data is more negative than expected, it is likely that crude oil will resume its uptrend.
On the contrary, a positive data could dent the strength of WTI and we could expect a drop below the 21 SMA that could cause a technical correction for the next few days.
We have two scenarios to operate Crude Oil. The first is to wait for a technical bounce above the 21 SMA (84.92) in order to buy with targets at 87.50 (8/8). On the other hand, if crude falls below 84.60, it will be an opportunity to sell with targets towards 6/8 Murray at 81.25.
Support and Resistance Levels for January 20 - 21, 2022
Resistance (3) 87.99
Resistance (2) 87.38
Resistance (1) 86.19
----------------------------
Support (1) 84.38
Support (2) 83.80
Support (3) 82.61
***********************************************************
Scenario
Timeframe H4
Recommendation: buy if it rebound
Entry Point 84.92
Take Profit 87.50 (8/8)
Stop Loss 84.50
Murray Levels 81.25 (6/8), 84.38 (7/8), 87.50 (8/8)
***********************************************************
Alternative Scenario
Timeframe H4
Recommendation: Sell if it breaks
Entry Point 84.60
Take Profit 82.50 and 81.25 (6/8)
Stop Loss 85.00
***********************************************************
Trading analysis offered by
Complex Trader
- a
RobotFX
partner.
Source