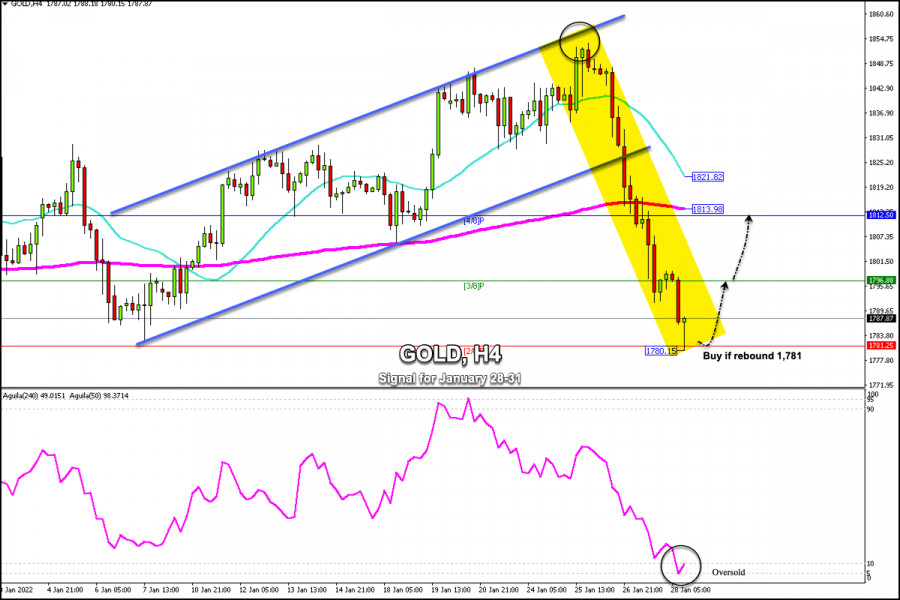 Gold (XAU/USD) is down sharply for the third day in a row, hitting the intraday low at 1,780.75, right in the zone of 2/8 Murray
Gold has lost approximately $73.00 per ounce troy, following an aggressive monetary policy announcement by the US Federal Reserve.
The US central bank hinted at a rate hike in March, making it clear that the ECB is also ready to end its financial support due to the pandemic through its bond purchases.
This is a sign that investors will now be more willing to invest in the US dollar because in the coming months its interest rate will increase and it will be more attractive to investors. Therefore, gold and other risky assets will be under downward pressure. Gold is likely to fall to the level of 1,700 in the coming months.
In the short term, we can see on the 4-hour chart that gold is very oversold. A technical bounce above 2/8 Murray is expected in the next few hours with targets around 1,796 (3/8) and up to 1,812 (4/8).
The eagle indicator has reached the line 5-points which represents an imminent technical bounce. As long as gold remains trading above 1,781, there will be an opportunity to buy with targets towards the 200 EMA located at 1,813.
Our trading plan is to wait for a bounce off 1,781 as confirmation that gold has reached strong bottom. If the price fails to break below and bounces above 2/8 Murray, it will be an opportunity to buy with targets at 1,812 until the next week.
Trading analysis offered by
Complex Trader
- a
RobotFX
partner.
Source