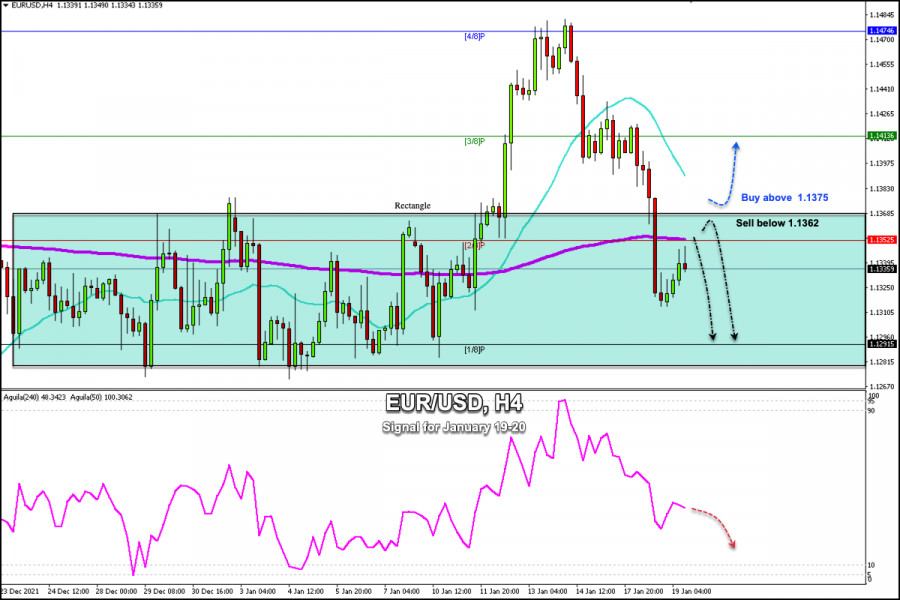 EUR/USD is trading below the 200 EMA, below the 21 SMA and below 2/8 Murray. The pair has returned to trading within the rectangle pattern formed since December. It is expected to remain oscillating within this trading range in the coming days until the market gets to know the Fed's decision.
Investors and traders remain on the lookout for the probable increase in interest rates by the Federal Reserve for March, which is another factor that has sustained the improvement in sentiment around the dollar in recent sessions.
The euro is again under downward pressure. The trend has changed since it entered trading below the 200 EMA and the 21 SMA. This technical bounce seen in the last few hours could be a correction for a continuation of the downward movement.
The market sentiment report for today, January 19, shows that there are 63.58% of traders who are buying EUR/USD. This is a negative signal and this suggests a probability of a bearish move in the medium term towards the level of 1.1230 (0/8).
A sharp break and consolidation above the 200 EMA and above the top of the rectangle around 1.1375 could see the Euro gain strength and again trade as high as 1.1413 (3/8) and 1.1474 (4/8).
EUR/USD is expected to consolidate inside the range zone of 1.1363 to 1.1281 in the coming days.
The eagle indicator continues to show a negative signal and is likely to reach the oversold zone. This correction being made by the Euro as long as it remains below the 200 EMA will be an opportunity to sell again with targets at 1.1281.
Support and Resistance Levels for January 19 - 20, 2022
Resistance (3) 1.1413
Resistance (2) 1.1387
Resistance (1) 1.1352
----------------------------
Support (1) 1.1304
Support (2) 1.1280
Support (3) 1.1244
***********************************************************
Scenario
Timeframe H4
Recommendation: sell below
Entry Point 1.1362
Take Profit 1.1291 (1/8)
Stop Loss 1.1397
Murray Levels 1.1230 (0/8) 1.1291 (1/8) 1.1413 (3/8)
***********************************************************
Alternative scenario
Timeframe H4
Recommendation: buy above
Entry Point 1.1375
Take Profit 1.1413 and 1.1474 (4/8)
Stop Loss 1.1330
***********************************************************
Trading analysis offered by
Complex Trader
- a
RobotFX
partner.
Source