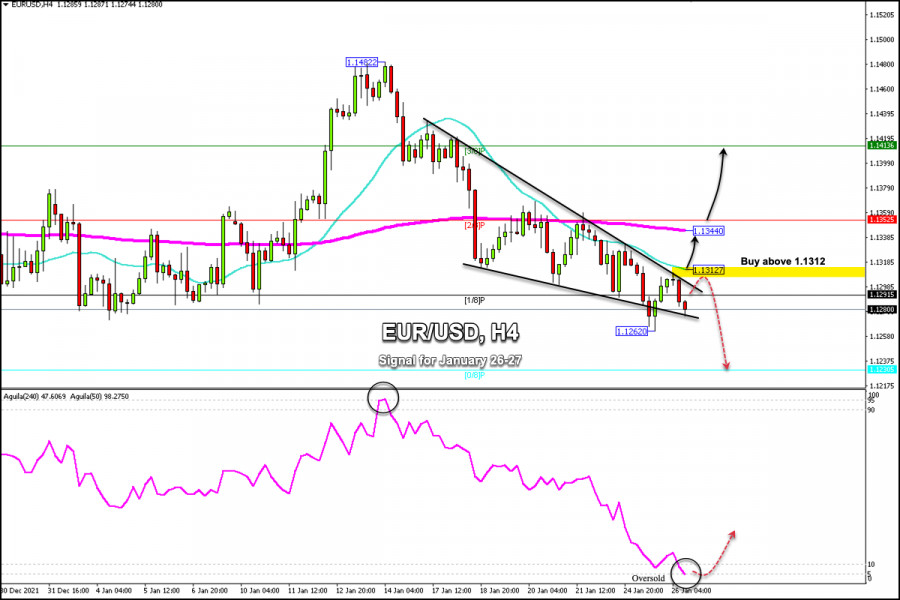 EUR/USD is falling and is trading at intraday lows near 1.1275. In the next few hours, the Fed will announce its decision regarding its monetary policy.
Early in the Asian session, the euro hit a high of 1.13. However, it failed to hold, as the 21 SMA and downtrend channel of the falling wedge pattern acted as strong resistance.
A sharp break above the falling wedge pattern could be a positive sign for the Euro. In the next few hours, a recovery is expected with targets at EMA 200 (1.1340) and up to 3/8 Murray located at 1.1413.
The market focus is on the Federal Reserve's decision at 19:00 GMT. An interest rate change is not expected, but the central bank is widely expected to make it clear in its comments that it will do so in March.
The negative long-term outlook for EUR/USD remains unchanged as long as it settles below the 200 EMA at 1.1704. In the short term accordingly, the 4-hour chart is bearish as long as the pair is trading below 1.1352 (2/8) and below the 200 EMA. Any technical bounce will be seen as an opportunity to continue selling.
The risk aversion sentiment makes investors take refuge in the dollar. Therefore, the euro has been weak in recent sessions. If the Fed's announcement does not convince investors, the Euro is likely to make a technical bounce and could return to levels of 1.1480.
Support and Resistance Levels for January 26 - 27, 2022
Resistance (3) 1.1361
Resistance (2) 1.1330
Resistance (1) 1.1296
----------------------------
Support (1) 1.1265
Support (2) 1.1225
Support (3) 1.1200
***********************************************************
Scenario
Timeframe H4
Recommendation: Buy above
Entry Point 1.1312
Take Profit 1.1344 (200 EMA) 1.1413 (3/8)
Stop Loss 1.1275
Murray Levels 1.1230 (0/8) 1.1291 (1/8) 1.1352 (2/8) 1.1413 (3/8)
***************************************************************************
Trading analysis offered by
Complex Trader
- a
RobotFX
partner.
Source