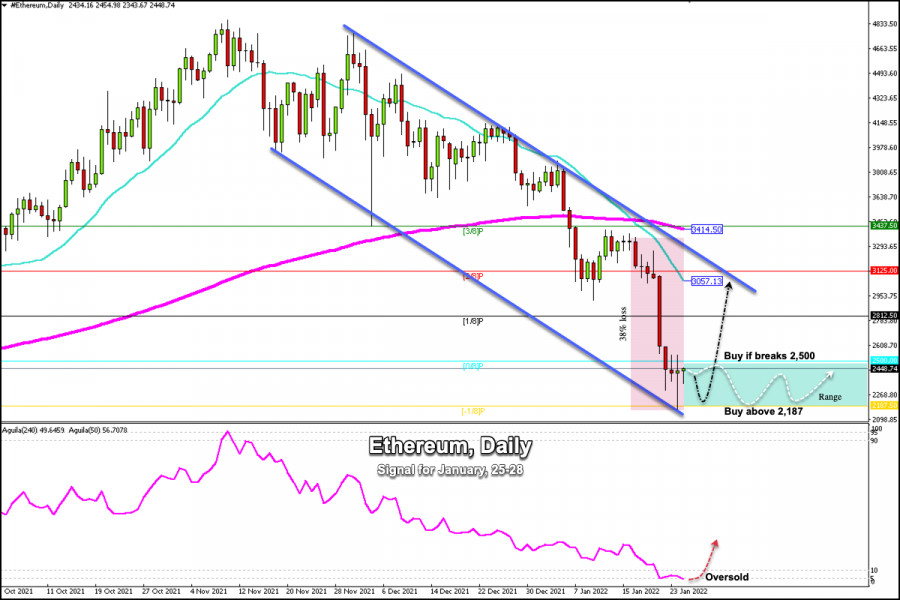 Ethereum (ETH/USD) has incurred a painful loss of more than 50% from its all-time high, and a loss of more than 38% in less than 1 week.
According to the daily chart, Ether has reached the extremely oversold support of -1/8 Murray around 2,187. We can observe a downtrend channel, formed since November 28. On January 23, Ether hit the bottom of the bearish channel bouncing quickly.
The daily candle on January 24 has formed a Doji, which represents indecision in the market. Ether currently has settled below 0/8 Murray and above -1/8 Murray. This is likely to be the range borders for the next few days, until Ether makes a consolidation around this zone.
On the other hand, if Ether breaks and consolidates above the level of 2,500, a recovery could occur and rally to the psychological level $3,000 zone of SMA 21 at 3,057 and to the top of the downtrend channel.
Below 2,187 (-1/8 Murray), Ether could lose key bottom support and we could see an accelerated crash towards the level of 1,800 and finally at 1,500. In the medium term and with the increase in the interest rate in the United States, ETH is likely to reach this price level. However in the short term, a technical correction is expected towards the zone of $3,000.
The eagle indicator is touching the oversold zone, a correction is expected in the next few days to ease the downward pressure. So, ETH could resume its dominant trend.
Our trading plan for the next few hours is to wait for a correction towards the support of 2,185 or a break above 2,500. On the other hand, if Ether fails to break 2,500, it is likely to trade within the range between 0/8 Murray and -1/8 Murray.
Support and Resistance Levels for January 25 - 28, 2022
Resistance (3) 2,768
Resistance (2) 2,602
Resistance (1) 2,500
----------------------------
Support (1) 2,376
Support (2) 2,210
Support (3) 2,022
***********************************************************
Scenario
Timeframe H4
Recommendation: buy if rebounds or if breaks
Entry Point 2,187 or 2,500
Take Profit 2,812 (1/8) 3,057 (21 SMA)
Stop Loss 2,000 or 2400
Murray Levels 2,187 (-1/8) 2500 (0/8) 2,812 (1/8) 3,125 (2/8)
***************************************************************************
Trading analysis offered by
Complex Trader
- a
RobotFX
partner.
Source