Since Zuckerberg successfully rebranded, changing the company's name, and very confidently, albeit vaguely, announced the Napoleonic plans, investors are wondering about the reasons for such a decision, weighing the market potential. In this article, I will prove to you that Meta is the new bitcoin, and if you are one of those who missed the birth of cryptocurrencies at the time, it's time to pay attention to the metaverses.
The Metaverse and what it is eaten with
One of the main problems of the public, as well as investors, is a very vague understanding of the metaverse and its goals. Someone considers it an opponent of Web 3.0. Someone, on the contrary, believes that these two technologies, apparently, somehow complement each other, since Zuckerberg got confused with his own cryptocurrency Diem (which was recently abandoned by Mark at the curb).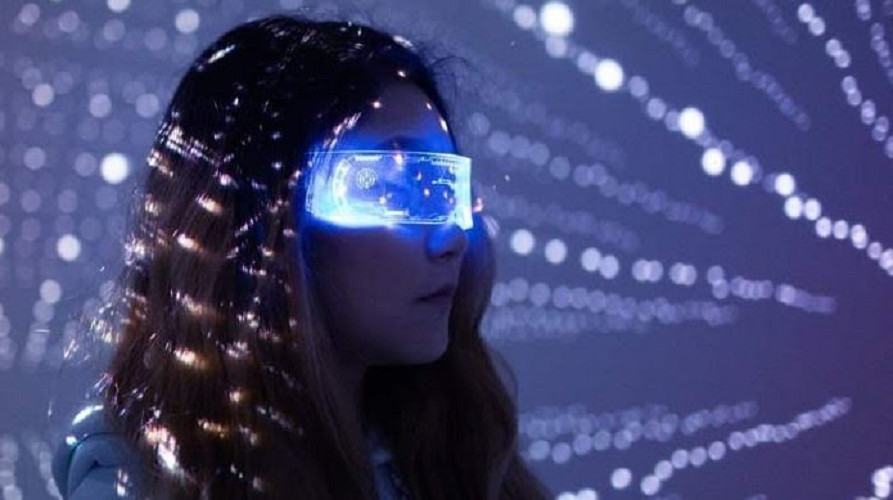 But in general, the idea of the metaverse is very vague among the inhabitants, so although Meta shares reacted positively to the rebranding at the time, Facebook users still had a subjective feeling of misunderstanding, such a sediment of bewilderment.
In simple terms, the metaverse is the operating system of your everyday virtualized reality. It will combine many functions, many of which we do not yet have mass access to.
Imagine the following picture.
You wake up in the morning in your rather ascetic apartment: bare walls in identical gray panels, no decor. Your hand is habitually reaching... no, not for the phone – for contact lenses. You carefully insert a pair of transparent circles into your eyes – and the world is transformed.
A TV screen unfolds on the wall – it does not exist in reality, it is projected onto the retina by lenses. The application in front of your eyes (let's call her Aigul, I don't know why, a beautiful name, besides, you will probably change the name of your assistant for yourself) wishes you good morning and offers you to choose wall decor for today, decorations, and a TV program.
You get up, stretch. Aigul kindly gives you yoga lessons. You impatiently wave away and ask Aigul to brew coffee for you in a voice. The assistant also suggests that you prepare breakfast, because this is the most important meal. No, no, you don't have time.
You go to the bathroom, which is already decorated by a caring Aigul in your favorite colors. While brushing your teeth, the TV program is broadcast on the mirror screen. And when you go to the kitchen, the image will follow you along the walls.
Grabbing coffee, you ask Aigul to call a plumber, because the pipes are buzzing too much again. Aigul cheerfully reports on the completed task and immediately offers to combine an outfit of fresh clothes (each item has a tag on which Aigul tracks the frequency of washings and its condition). You trust Aigul's choice – she knows your preferences perfectly well.
Aigul tells you the location of each item – it is not difficult to get ready for a meeting with her help. She reminds you about the umbrella forgotten in the car and unfolds the schedule. You are never alone – your life is accompanied by constant communication with Aigul - this faithful secretary, assistant, even friend.
Yes, Aigul has been transferred to the mode of increased friendliness, which means that she respects the interests of the owner first of all.
When you go outside, you look at the sun with pleasure – Aigul controls the level of lighting. Beautiful day! From the walls of neighboring houses, you are advertised goods, the best YouTube videos, a selection of news. Wincing, you ask Aigul to remove the intrusive advertising. The premium account allows you to choose the desired images yourself, and the houses are decorated with the latest art installations and graffiti by world artists – they rent these sites strictly for a month.
Aigul has already warmed up the motor of your unmanned electric car, unlocking the car by retinal scan. You are sitting in a comfortable chair, going to view electronic documents that need to be sent to the customer. Meanwhile, your hovercraft is integrated into the flow of the same drones on the highway, moving synchronously with all traffic participants.
Aigul reminds you that at 19.00 a table is reserved in a restaurant for dinner with friends. You ask Aigul to play the recording of the last dinner, hear your friend's request to arrange a business meeting (Only five minutes!), and decide not to go. Aigul cancels the order...
In short, this is our near future with you in fifteen or twenty years. Yes, the picture turned out to be too idyllic, but you really don't understand yet what this new metaverse is beautiful about?
Advanced features? Notepad, organizer, phone, video, editors - always at hand, 24 hours a day. I wouldn't be surprised if many people want to implant sensors in their retinas. And after 40 years, this will become the norm even for newborns...
But I guarantee you, you haven't realized the full potential of the metaverse yet.
The potential of the MetaUniverse
Well, so far you've only looked into the future out of the corner of your eye and seen... first of all, there is a huge advertising market, extremely personalized, with complex algorithms that track your life from the cradle. The potential of advertising broadcast through vr and ar devices today is still impossible to adequately assess in banknotes...
But this is just the tip of the iceberg.
Do you remember that humanity is actively depleting the resources of the Earth? But in the case of the active development of the metaverses, the need for such an active production of many things will simply disappear.
Paper wallpaper? It's in the past. Entire design studios are fighting for the opportunity to sell you a carefully designed interior, including an excellent micro-pixel version of Picasso's canvas on half a wall (Monet will replace him in the evening).
Sony almost went bankrupt, stubbornly continuing to produce televisions made of plastic – a slightly belated transfer of production to microchips saved it from bankruptcy...
Clothes? You no longer need twenty T-shirts of crazy colors – you change the color and visible texture of clothes using the application.
The metaverse is your home PC right in your head.
It is still difficult to imagine all the advantages that the use of several operating shells for servicing virtualized reality will bring to humanity.
All mankind is connected by single databases: information about your health, well-being, violations of public order is instantly recorded and transmitted to remote servers. It is absolutely impossible to work without such a shell: design, regulation, maintenance of many industries takes place directly in Meta. Here are all your contacts, your friends, with whom you can communicate from a distance as if they are sitting next to you on the sofa. Here are to-do lists, remote voting on all important state issues takes place here...
Are you beginning to understand now?
Limited Consumption Society
I admit, a couple of years ago I didn't have such a picture in my head.
Even "Black Mirror" with its very accurate projection of the future (at least in the technical part) did not form such a picture. Because we traditionally consider ourselves to be a species that tends to seriously over-consume, so to speak.
However, when Mark told us about the new metaverse, my head clicked. In fact, almost no one understands that we are at a turning point in the development of society. No, we will not consume less. But what we will consume will become largely ephemeral, designed, thought out... and cheaper in the sense of absolute cost. Austerity of resources in ten to fifteen years will raise the issue of providing humanity with the necessary. Probably, many things will have to be abandoned... without giving up on them.
After all, really, imagine this huge live market of design, gameplay, entertainment industry, work applications – all this will allow us to save the resources of the planet by working and partially living in virtual space.
As for me, this is the most logical development of events that can only be imagined.
Oh, these young people...
I know that most of the millennial generation does not yet accept the new reality, which is standing at the threshold and waiting for it to be technically (and ideologically) formalized. Purchase of weapons in the game (virtual!) for real money, it causes my forty-year-old peers to have a fit of hysteria and a desire to call orderlies from a mental hospital. If paying for music, books and other content is still perceived by millennials, then buying NFT tokens and rejecting the presumption of proprietary copyright leads them into a stupor. Very many of them are not able to accept and will never accept the subjective cost of virtual things, although the world has perfectly survived the virtualization of the same currencies.
Nevertheless, if we want to reduce the consumption of individual resources, such as wood, for example, we should take a step forward and explore possible options. I consider metaverses to be one of the best.
Of course, a lot of questions remain: cybersecurity, access to data, the limits of personalization, the monopoly of individual developers, after all... However, all these are topical issues that will arise upon the use of the new technology. There is also a possibility that some global crisis or shortage will throw humanity back two hundred years, forcing it to abandon the virtualization of space (at least temporarily).
And yet, I think I will not be mistaken if I tell you the following: if you are one of those investors who are looking for a "new bitcoin", if you are looking for something that will become mainstream in twenty years, you should pay attention to the VR industry. Stocks of hardware manufacturers and developers, stocks of software and shell companies (hello, Mark!), technology indexes – everything that touches on the issue of virtualization development will one day benefit you and your pocket. Risk? Yes, progress is never smooth. But those who invested in bitcoins in 2015, in 2021, did not regret it. If you are looking for something as potentially large-scale and promising, Meta and its analogues are what you need.
Trading analysis offered by
Complex Trader
- a
RobotFX
partner.
Source