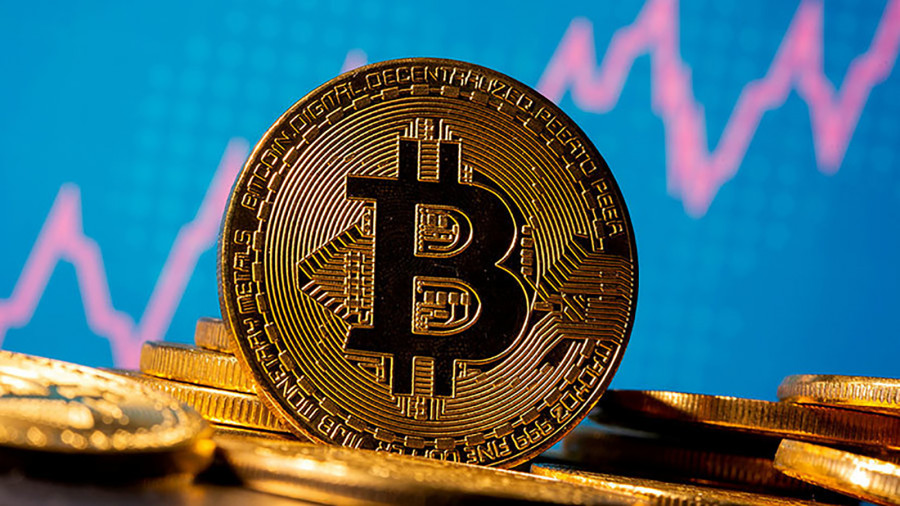 Bitcoin continues its decline, which began on November 10, when the quotes updated their absolute maximum near the level of $ 69,000. As you can see, none of the forecasts predicting the cost of bitcoin of $ 100,000 (and there were hundreds of such in 2021) did not come true. Admittedly, there has been little really serious fundamental background in recent months. By and large, bitcoin began to fall around the time when the Fed announced the beginning of the curtailment of the quantitative stimulus program. At the beginning of the new year, Kazakhstan "finished off" the cryptocurrency, in which civil unrest began, which forced the country's government to restrict the use of the Internet in the country. In a country whose mining share is 18% of the global total. Interestingly, a certain part of Chinese miners fled from repression to neighboring Kazakhstan. Thus, approximately 15-20% of the mining capacities located in Kazakhstan were disconnected from the network at the beginning of 2021. The hashrate of the network immediately collapsed and with it the price of bitcoin. As you can see, the "bitcoin" remains extremely dependent on the fundamental background. If in the case of any currency, we are talking about a change in the exchange rate by a couple of percent due to a negative or positive background, then in the case of bitcoin, the change can be 10-20% within a short period. Some experts immediately changed their forecast, allowing bitcoin to fall even more. For example, Mike Novogratz, the head of Galaxy Digital, believes that the first cryptocurrency can now sink to $ 38,000.
Bitcoin is losing its dominance index.
In addition, bitcoin is no longer considered by all investors as the best cryptocurrency for investment. Since December last year, the bitcoin dominance index has only been declining. For example: in February 2017, the bitcoin dominance index was 95%. In October last year – about 50%. Now the index has fallen to 40%. This means that investors' interest in altcoins is growing. Simply put, "we are not united by bitcoin." Every day new cryptocurrencies appear, those that appeared immediately after bitcoin are developing. Naturally, investors are starting to pay attention to Ethereum or Litecoin, which pull back some of the cash flows. Thus, the global fundamental background for "bitcoin" is not the best right now and it is not yet clear how it can improve.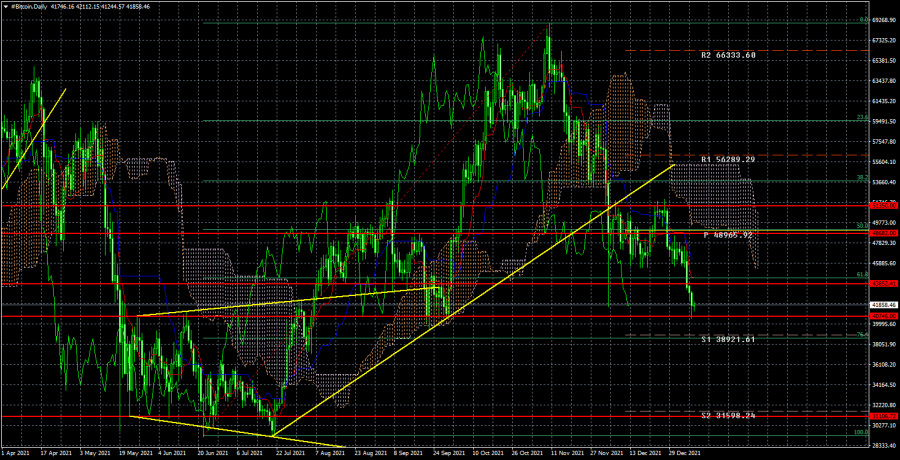 On the 24-hour timeframe, the quotes of the "bitcoin" are fixed below the ascending trend line, so the "bullish" trend is broken. At the moment, the quotes have fallen to the level of $ 40,746, so overcoming this level will open the way to the level of $ 31,106 - the lows of 2021. Please note that bitcoin has been falling for 2 months and so far this fall is almost recoilless and very strong. This suggests that investors are getting rid of coins, and not increasing purchases in any way.
The material has been provided by InstaForex Company -
www.instaforex.com