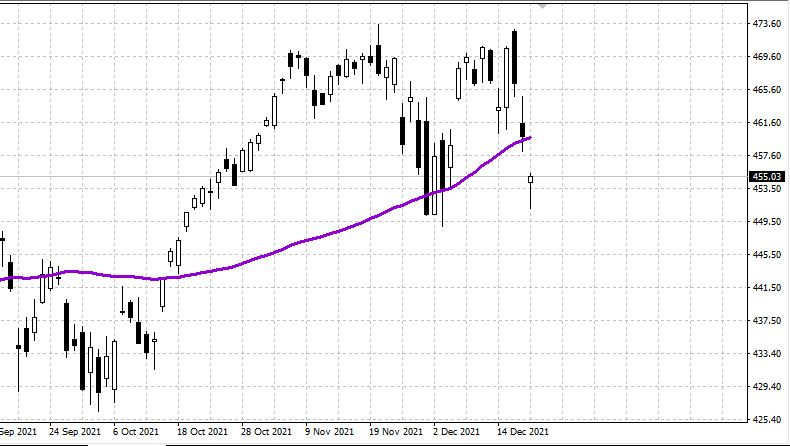 S&P500
Weekly US market review 14.12 - 21.12
The US market rose to the highs of the year and then had been falling for three days in a row. The market condition thus started a correction.
The reason is simple. This week the Fed accelerated cuts in its liquidity injection programme from 15 billion to 30 billion a month and promised a rate hike from mid-2022. This was expected because US inflation has been above 5% since April 2021 and reached 6.8% in November. This is despite the fact that the Fed only declares an acceptable inflation rate of 2.5%. So, the Fed has no choice but to tighten monetary policy until inflation starts to fall markedly.
The second reason for the drop in the markets is that large market players are taking profits near the yearly highs. The sales started after the Fed meeting from the high of the year, but even now the S&P500 index is around of +21% from the beginning of the year.
US indices for week:
The Dow stays in the range of 35,520 – 34,930. It fell by 590 points or 1.5%.
The NASDAQ remains in the range of 15,210 - 14,980. It dropped by 230 points or 1.5%.
The S&P500 is trading in the range of 4,630 – 4,570. It lost 60 points or 1.3%.
Outlook:
The Dow is likely to remain in the range of 34,500 - 35,500.
The NASDAQ is likely to stay in the range of 14,800 - 15,300.
The S&P500 is expected to be in the range of 4,530 - 4,650.
The market is getting ready for the holidays and may oscillate unpredictably. Investors need to take a cautious stance. It is possible to buy on the current downturn, but it should be noted that new waves of market declines are possible.
The material has been provided by InstaForex Company -
www.instaforex.com