Ethereum and Bitcoin are regaining bullish momentum, rebounding from local lows. This picture proves that large crypto investors are again opening long positions. They seem to believe that a downward correction is over. At the same time, there is a chance that the crypto market might move steeply downwards as stop losses could be activated soon. Before we discuss the technical charts in detail, let me tell you about the US senators who support the crypto market.
Senators Pat Toomey from Pennsylvania and Cynthia Lummis from Wyoming belong to the influential Senate Banking Committee. Recently, they called on the government to soften the stance on the fast-growing crypto market.
Senators gladly own BTC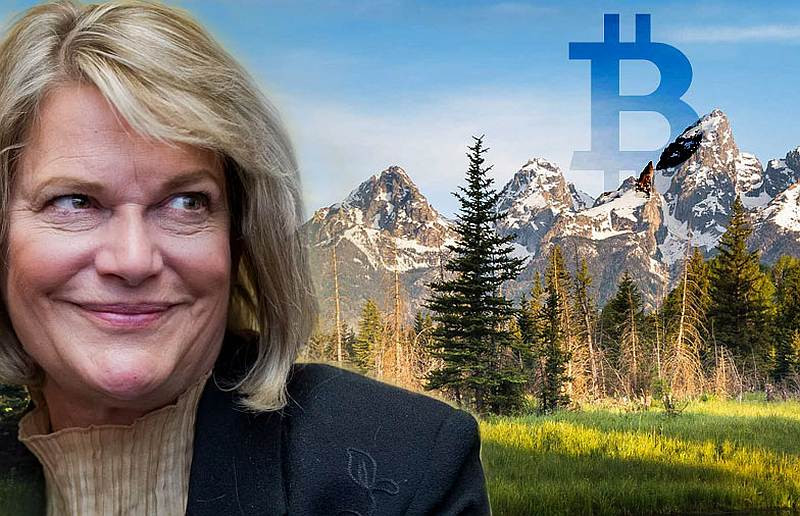 Interestingly, these senators hold assets in cryptocurrencies. Lammis confessed that she purchased Bitcoin in the amount of $250,000. It makes her the most heavily invested US lawmaker in the digital asset. Pat Toomey holds more modest crypto investments. Nevertheless, together they are the only two senators with such big investments.
Experts of the crypto industry note there is nothing illegal that lawmakers possess crypto assets, even though they are working on legislation directly related to those assets. Once Toomey was asked whether he thinks it right to invest in cryptocurrencies and propose various initiatives on the crypto market in parallel. "Tell me what part of the economy we don't get involved in?" Mr. Toomey said in an interview when asked about potential conflicts of interest. "Following that logic, then I guess no one in the Senate can invest in anything. That would be ridiculous."
At the same time, some analysts suppose that the senators push ahead with the crypto legislation driven by their personal financial interest. For this reason, the senators' loyalty about the crypto industry should be questioned. House Representative Alexandria Ocasio-Cortez (D., N.Y.), who is on the House Financial Services Committee, said that members of Congress shouldn't hold or trade individual stocks or cryptocurrency assets, "because we have access to sensitive information and upcoming policy."
Importantly, although lawmakers aren't prohibited from writing or voting on bills that could bring them personal financial gain, they are required to disclose their assets annually and report transactions within 45 days. Reportable assets include real estate, stocks and, since 2018, cryptocurrency.
Jack Dorsey: BTC to replace dollar
Co-founder and ex-CEO of Twitter Jack Dorsey stated lately that Bitcoin will eventually replace the US dollar. Dorsey is a huge fan of cryptocurrencies and frequently praises Bitcoin in public. Nevertheless, his zeal wanes when it comes to Web3, the online services of the third generation that were launched thanks to decentralized networks. This new kind of investments is quite lucrative nowadays, especially since metaverses came into being.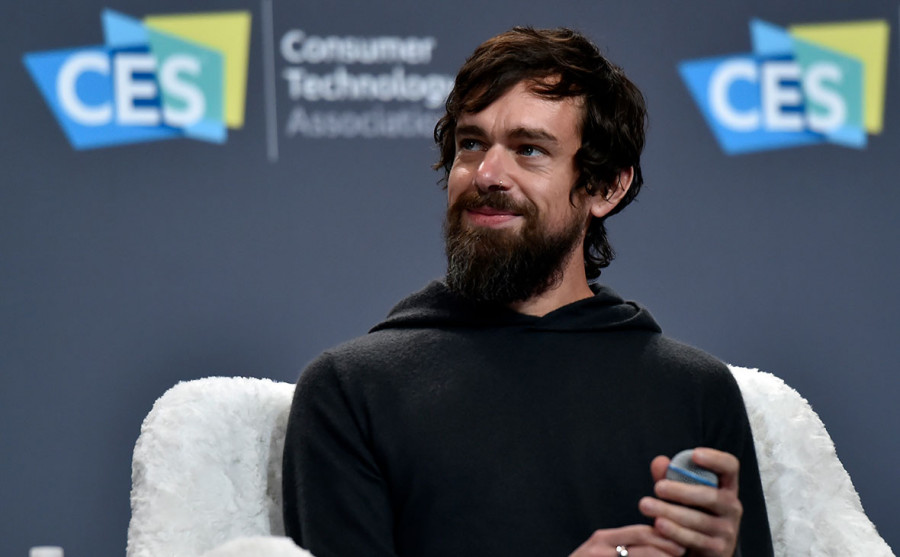 Despite the fact, a lot of venture capital firms investing in Web3 developing companies have popped up. For example, Andreessen Horowitz led a $36 million funding round of Mysten Labs, a crypto and Web3 blockchain infrastructure technology start-up. Let me remind you that last month, Jack Dorsey abandoned social media giant Twitter and focused on fintech firm Block, formerly known as Square. While he headed Twitter, Jack Dorsey allowed Bitcoin tipping and promised Twitter would integrate NFT authentication.
BTC technical picture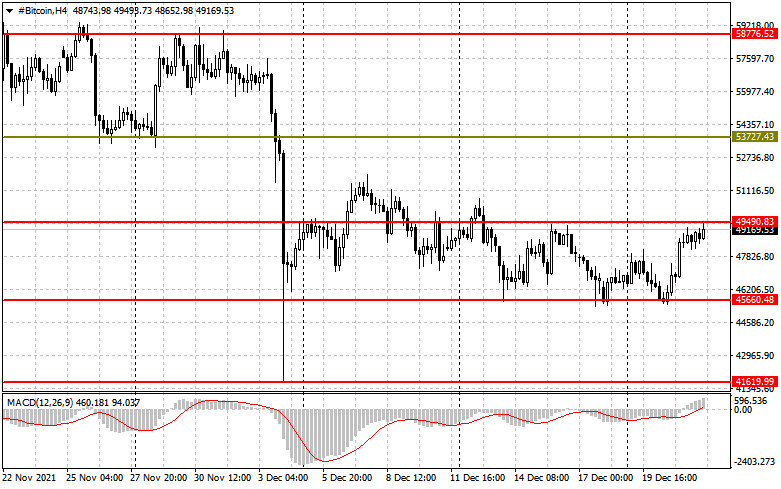 Though the flagship crypto is still trading sideways, the borders of the range have slightly shifted after the bulls managed to defend $45,660 yesterday. This level has been tested three times for the last 10 days. Now the buyers are focused on resistance at $49,500. Its breakout is sure to reinforce demand for BTC, so the door will be open towards the highs of $53,700 and $58,700. If the bears again come tightly to the support of $45,660, or even worse, smash it through, we should wait until the crypto updates the levels of $41,600 and $37,380.
ETH technical picture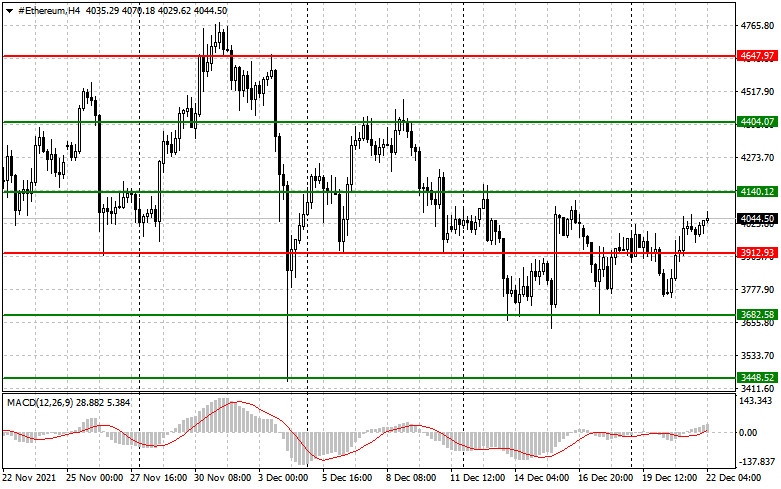 Currently, Ethereum is trading above $3,912, in the midst of the sideway channel. This creates preconditions for further ETH growth. If the bulls manage to settle at this level in the near time, ETH will be able to rebound to $4,140. A breakout of this area will open the way towards the highs $4,404 and $4,647. If Ethereum again comes under pressure, it would be better to plan long positions at about the support of $3,680. If this level is broken, it would be a bad sigh for the buyers at the year-end.
The material has been provided by InstaForex Company -
www.instaforex.com