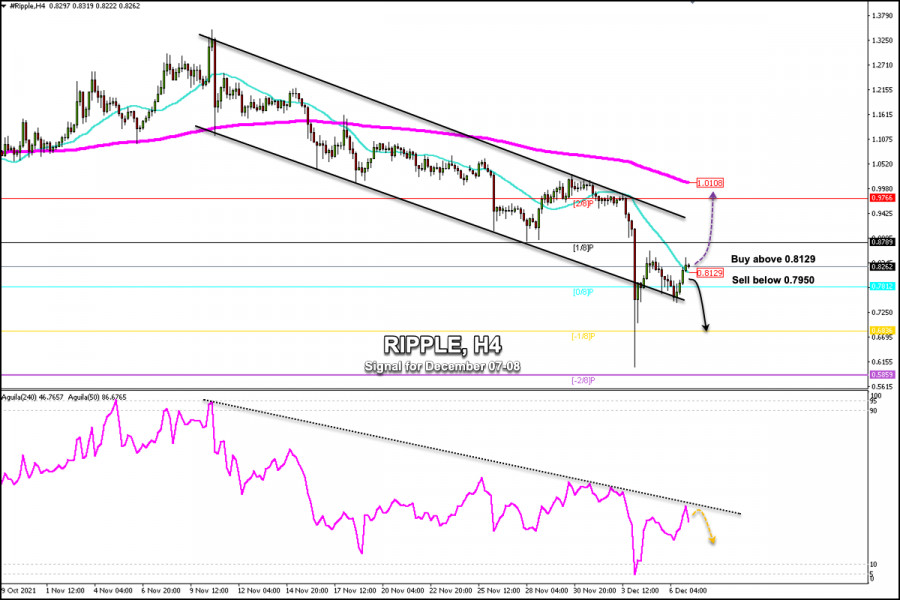 The price of Ripple (XRP) collapsed to the price level of July 26 at 0.6036. The sharp fall in BTC caused Ripple to fall strongly until it almost reached the extreme oversold zone of -2/8 of Murray.
After a few hours, XRP bounced closer to the zone of the 21 SMA. Right now, it is consolidating above the 21 moving average and if it trades above 0.8129, the bullish movement could continue to the top of the bearish channel and up to the 200 EMA located at 1.0108.
Since December 4, when it registered the low of 0.60, until today, December 7, when it is trading at 0.82, it has obtained a yield of more than 30%. The bulls were positioned at the low-price level with the target at the psychological level of 1.00 in the short term.
Our trading plan is to buy as long as it remains above the SMA 21, targeting 0.8789 and 1.0108 (200 EMA). Conversely, if it trades below 8/8 Murray again, the downward movement is expected to continue towards the support of -1/8 Murray around 0.6836 and up to the psychological level of 0.50.
If BTC consolidates below the 50,000 level, due to the correlation it is likely to affect the strength of XRP, and it may fall to the support level of 0.62. The eagle indicator is under downward pressure and moving below the trend channel. This provides a bearish signal for the short term.
Support and Resistance Levels for December 07 - 08 2021
Resistance (3) 0,9230
Resistance (2) 0,8736
Resistance (1) 0,8456
----------------------------
Support (1) 0,7682
Support (2) 0,7188
Support (3) 0,6908
***********************************************************
A trading tip for XRP on December 07 - 08, 2021
Buy above 0,8129 (21 SMA) with take profit at 0,8789 (1/8) and 1,0108 (200 EMA), stop loss below 0,7950.
The material has been provided by InstaForex Company -
www.instaforex.com