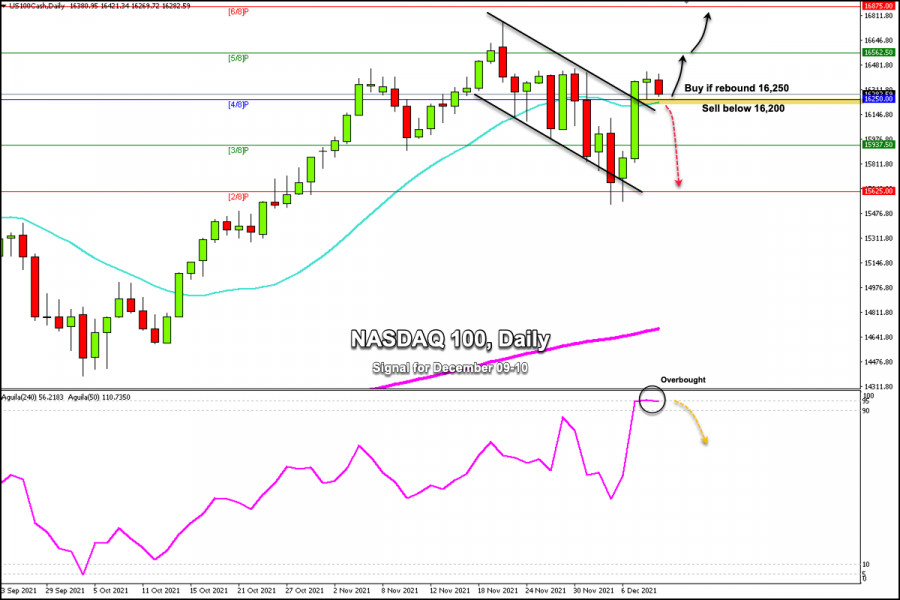 The technology stocks that make up the NASDAQ 100 have performed well with data from Intel and Apple that have supported this index to continue rising until reaching overbought levels.
The NASDAQ 100 (#NDX) has been consolidating for three days above the 21-day average. A technical bounce around this support zone will generate a positive signal and the index could gain momentum until it reaches the resistance at 16,562 and if it breaks this zone to a new high around 6/8 Murray at 16,875.
The bearish channel formed since November 22 was broken. This represents a bullish signal for the short and medium term. As long as the Nasdaq 100 trades above the psychological level of 16,000, the uptrend is likely to continue.
On the contrary, if it returns to trade below the 21 SMA and within the downtrend channel, then it could be a clear signal to sell with targets towards the support of 15,625.
The eagle indicator has reached the 95-point zone that represents an extremely overbought market. Therefore, we expect that there will be a correction in the next few hours. A sharp break below 16,200 will offer the possibility of a move down to the support of 2/8 Murray at 15,625.
Our trading plan is to sell below 16,200 only if the index makes a daily close and consolidates below this zone. On the contrary, as long as it remains above 4/8 of Murray, the key will be to continue buying with final targets at 16,876.
Support and Resistance Levels for December 09 - 10, 2021
Resistance (3) 16,644
Resistance (2) 16,540
Resistance (1) 16,461
----------------------------
Support (1) 16,248
Support (2) 16,174
Support (3) 16,095
***********************************************************
A trading tip for NASDAQ on December 09 - 10, 2021
Sell below 16,200 (21 SMA - 4/8) with take profit at 15,937 (3/8) and 15,625 (6/8), stop loss above 16,275.
The material has been provided by InstaForex Company -
www.instaforex.com