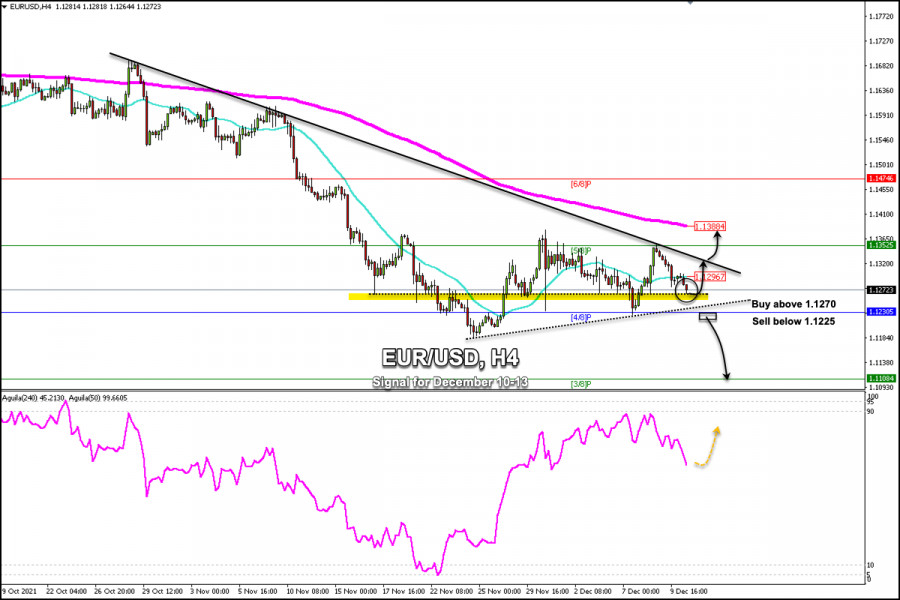 Before the announcement of the inflation data in the United States, EUR/USD is trading below the SMA of 21 located at 1.1296. Right now, the pair is trading at 1.1272, just above key weekly support. If this support is broken, we could expect a rebound in the uptrend channel formed since November 22.
On the other hand, a rebound and a consolidation above the weekly support of 1.1270 could be an opportunity to buy EUR/USD as long as the US inflation data is negative for the US dollar.
Additionally, a sharp break above the 21-moving average could be an opportunity to buy with target the 200 EMA at 1.1384. The key is to watch that it trades above 1.1296 which will give us the possibility to buy.
On the other hand, a break below the support of 4/8 Murray at 1.1230 and below the secondary trend channel could grag down the currency pair that could fall to the support of 3/8 at 1.1084. We will be able to sell if EUR makes a daily close below this key level of 1.1230.
The downtrend channel formed since October 22 continues to put pressure on the pair. A sharp break above 1.1320 would give the euro the opportunity to start a new bullish scenario. You can buy if EUR / USD trades above this channel. It could eventually consolidate above the 200 EMA at 1.1384 with a final target of 1.1474.
Our forecast in the next few hours for the euro is a consolidation above 1.1296. As long as EUR / USD is trading above this zone, we will have an opportunity to buy with the target at 1.1352 (5/8) and 1.1388 (200 EMA).
The market sentiment report for today, December 10, shows that there are 63.92% of operators who are buying the EUR / USD pair. This data provides a bearish sign in the long term. We could expect a recovery to 1.1388 (200 EMA). Then, the price may again resume its downward movement with the target at 1.1108 (3/8).
Support and Resistance Levels for December 10 - 13, 2021
Resistance (3) 1.1370
Resistance (2) 1.1329
Resistance (1) 1.1307
----------------------------
Support (1) 1.1262
Support (2) 1.1230
Support (3) 1.1194
***********************************************************
A trading tip for EUR/USD on December 10 - 13, 2021
Buy above 1.1270 (weekly support) with take profit at 1.1317 (bearish channel), and 1.1388 (200 EMA) stop loss below 1.1235.
The material has been provided by InstaForex Company -
www.instaforex.com