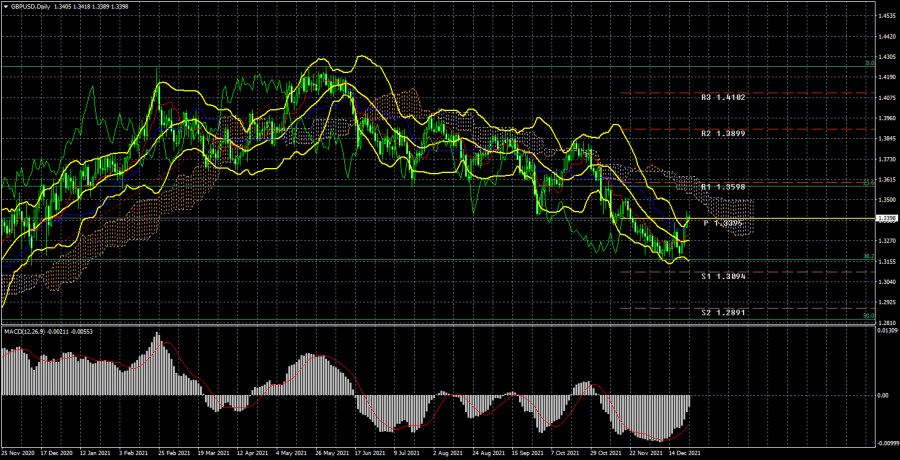 The pound/dollar pair has grown quite significantly this week by 250 points. However, as we have said in previous articles, it is very difficult to find specific and clear reasons for such a movement. Simply because there were no really important events, news, and publications during the week. Of course, something interesting is always happening in the world, but this does not mean that the markets respond to every such event with their actions. For example, in the UK, the number of cases of coronavirus, in particular the omicron strain, continues to grow. The last time 120 thousand new cases of the disease were announced per day. This is the maximum daily number of diseases since the beginning of the pandemic. And although "omicron" is much easier to carry than the same "delta", in absolute terms, there may still be more hospitalizations than with "delta", since the total number of cases may be several times greater. But, as we can see, this did not prevent the British pound from rising in price on the eve of Christmas. Boris Johnson said he would give the British the opportunity to celebrate this holiday in peace, but this week the British government may introduce a "lockdown" or tighten quarantine measures. However, in any case, and any country, the economy in the third and fourth quarters will not be experiencing the best time. This is not a purely British problem.
As for the technical picture, unlike the EUR/USD pair, the pound showed excellent volatility and trendiness in the last week. Thus, there is reason to assume that next week will be quite active. However, some groundlessness of the pound's growth by 250 points may lead to the fact that in the New Year's week quotes will fall by the same 250 points to annual lows.
Well, there is nothing at all to say about the "foundation" and "macroeconomics", since nothing interesting is planned for the next week either in the UK or in the USA.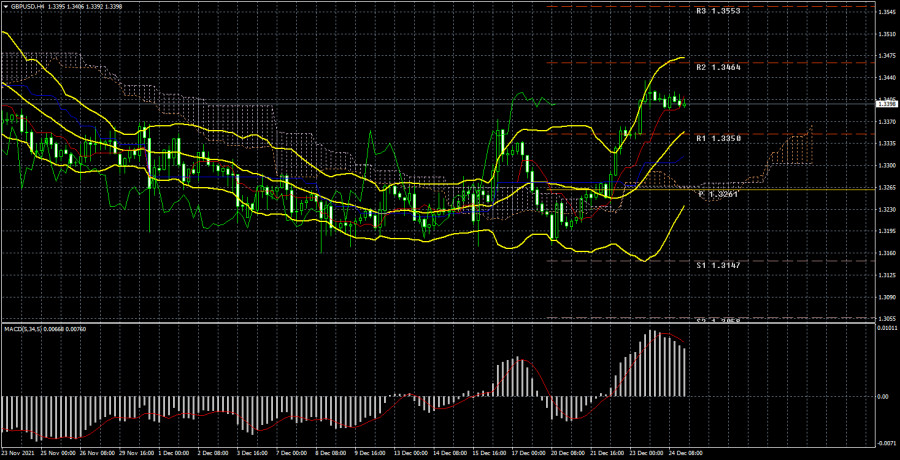 Recommendations for the GBP/USD pair:
The pound/dollar pair has started an upward trend on a 4-hour timeframe, as evidenced by the Bollinger Bands and Ichimoku indicators. However, this does not mean that next week the pair's quotes will not go down as much as they went up this week. However, we still believe that the pound will be able to go north for a total of about 400-500 points so that it would fit very well into the general nature of the movement in 2021. Thus, after correction to the critical Kijun-sen line, the upward movement may resume with targets near the resistance levels of 1.3464 and 1.3553.
Explanations to the illustrations:
Price levels of support and resistance (resistance /support), Fibonacci levels - target levels when opening purchases or sales. Take Profit levels can be placed near them.
Ichimoku indicators (standard settings), Bollinger Bands (standard settings), MACD (5, 34, 5).
The material has been provided by InstaForex Company -
www.instaforex.com