Bitcoin ends the week near the $48,000 level.
Bitcoin ends the week where it should have done. Of course, making forecasts for bitcoin is always a thankless task, since this cryptocurrency is too volatile. Nevertheless, the situation on the market now is such that there are more reasons for a new fall in "digital gold" than there are reasons for growth. Let's look at it in more detail. First, it should be noted right away that the cryptocurrency has not been able to significantly update its annual highs. Second, the cryptocurrency has not been able to reach $ 100,000 per coin and even up to $ 75,000 in 2021, as predicted by the absolute majority of experts. Third, the Fed has begun to curtail the quantitative stimulus program, so the "bubble" in the cryptocurrency market will stop inflating. Fourth, the bankruptcy of Evergrande can have a very negative impact on risky assets and provoke a wave of bankruptcies and falling markets. Of course, the bitcoin exchange rate largely depends on the mood of market participants and their belief in its growth. If tomorrow the majority of market participants decide that bitcoin has the potential for further growth and continues to buy it, this will provoke a new rise in the price of this cryptocurrency. And the market's decision may be completely unrelated to the fundamental background: bitcoin grew far not only in those times when there were reasons for this. However, if we still take into account the fundamental background and make forecasts based on it, then most factors indicate that the decline will continue. Recall that we predicted bitcoin going below $30,000 back in the summer. It was a surprise for us to see an increase to annual highs, as there were no good reasons for this.
An investment tool, not a replacement for fiat money.
However, it should be remembered that bitcoin has been and remains an investment tool, not a means of payment. If we were talking about a currency, then its fall by 80-90% would not be possible, since it cannot happen that suddenly everyone does not need this currency. But in the case of bitcoin, this is possible, because if investors feel that the "bullish" trend is over, then sales will follow. Of course, there are also institutional and large investors who can afford to keep bitcoin on their balance sheet for years or decades. However, in this case, it is difficult to imagine what will happen to bitcoin at all. Its issue is limited and if 80-90% of coins will just lie on the wallets of billionaires, then the cryptocurrency will simply be abandoned since it will be constantly in short supply. In general, it is still very difficult to classify "bitcoin". It seems to have been created to be a substitute for fiat money but acts as a risky investment tool and an inflation hedging tool.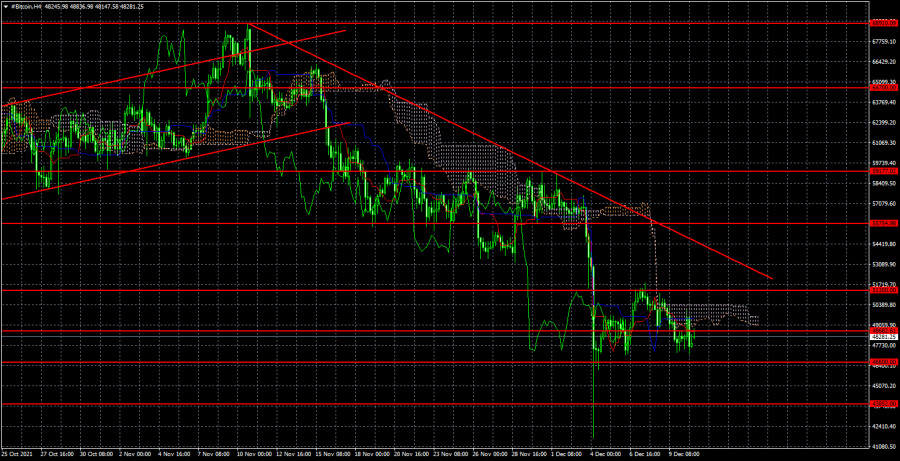 The trend on the 4-hour timeframe is downward and now there is a downward trend line that supports the further fall of the "bitcoin". The cryptocurrency is located below the Ichimoku cloud, so even at the current TF, there are no prerequisites for the start of growth yet. The nearest target levels are $46,600, $43852, and $40,746. It will be possible to count on new growth of the "bitcoin" only if its quotes are fixed above the trend line. From our point of view, a new downward trend is emerging now.
The material has been provided by InstaForex Company -
www.instaforex.com