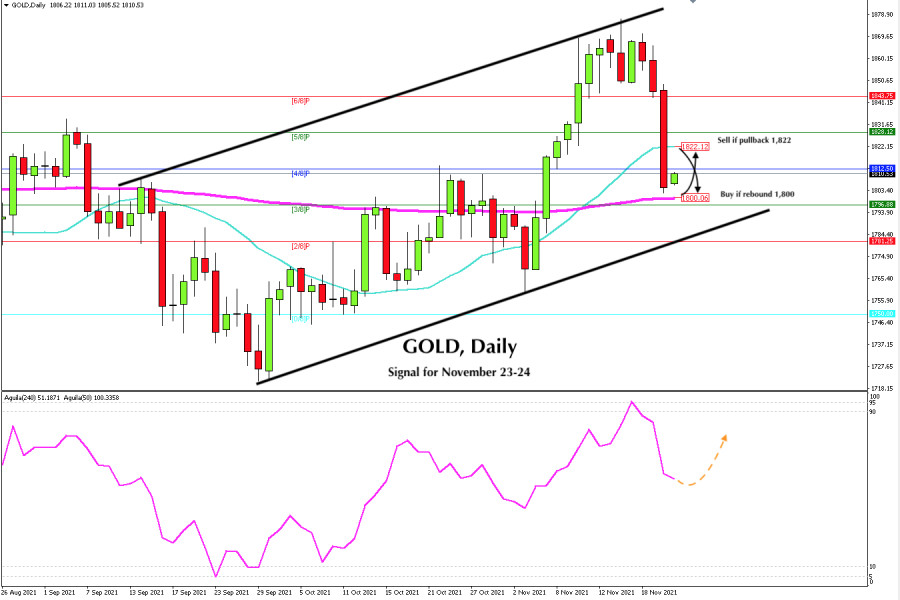 On November 22, gold fell abruptly towards the 200 EMA support around 1,802.24.
Yields on 10-year treasuries rose to 1.60%, weakening the strength of gold. Another factor that put pressure on gold was that US President Joe Biden nominated Jerome Powell as Chairman of the Federal Reserve for a second term.
The market reacted accordingly and allowed the US dollar to strengthen across the board. Extending a winning streak for three days straight, the dollar index (#USDX) rose rapidly to a high of 96.58, the level last seen on December 7, 2020.
According to the daily chart, gold has strong support at the 200 EMA around the 1,800 psychological level. The precious metal is expected to bounce off this area in the next few hours. The price may recover with targets towards the 21 SMA around from 1,822.
From the high of 1,870, gold has been falling for three consecutive days. The last candle that we can see on the daily chart is an engulfing, with an accumulation of 464 pips, which represents a decrease in the price of 46 dollars in a single day.
On the other hand, a pullback to the 21 SMA around 1,822 will be a good opportunity to sell gold, targeting 3/8 murray at 1.796 and to the bottom of the uptrend channel at 1,787.
Another key support for gold is the zone of 1,781. There is 2/8 of Murray that coincides with the line of the uptrend channel. As long as the price remains above this level, it is likely that there will be a technical rebound and gold could again resume its bullish movement.
Gold is supposed to trade within a range between 1,800 and 1,822 in the next few hours. On the other hand, a consolidation above 1,822 could encourage a recovery towards 1,843. With a fall below 1,800, the metal could continue the decline until 1,781.
Support and Resistance Levels for November 23 - 24, 2021
Resistance (3) 1,843
Resistance (2) 1,834
Resistance (1) 1,818
----------------------------
Support (1) 1,796
Support (2) 1,781
Support (3) 1,765
***********************************************************
A trading tip for GOLD for November 23 - 24, 2021
Buy if rebound around 1,800 (200 EMA) with take profit at 1,822 (21 SMA), stop loss below 1,793.
Sell in case of pullback at 1,822 (21 SMA) with take profit at 1,800 (200 EMA) and 1,781 (2/8), stop loss above 1,829.
The material has been provided by InstaForex Company -
www.instaforex.com