Bitcoin is slowly and confidently going according to plan - consolidating. The side range 55842.84 - 59283.67 does not lose relevance, volatility remains low. The situation does not look critical, but locally it is somewhat ambiguous.
Bitcoin whales buy back the fall
The analytical company Santiment reported that cryptocurrencies are using price reduction to replenish stocks.
Active Bitcoin whale addresses, which contain from 100 to 10,000 BTC, accumulated about 40,000 bitcoins during the fall of last week. With prices in the region of $ 57,000 per bitcoin, their savings amount is approximately $ 2.26 billion.
Coins are leaving cryptocurrency exchanges
At the same time, according to Santiment, the supply of bitcoin on the exchange continues to be depleted, although prices are declining. This means that the risk of a mass sale is reduced.
There is another interesting fact: the same analysts note that sentiment on the main cryptocurrency has reached the lowest bearish level in seven weeks.
The assessment is based on the data of the weighted sentiment tracker Santiment, which analyzes positive and negative comments related to the crypto asset. The analytical company states that prices tend to peak when social sentiment becomes too high and reach a minimum when the indicator becomes too low.
Another indicator is the Binance financing rates
Analyzing this data, Santiment reports:
"When from mid-October to mid-November bitcoin was well above $60,000, Binance's funding rates for most assets were in positive territory. This indicated the trader's excessive confidence and excessive price correction. Now everything looks much more neutral."
The "worst" scenario from PlanB
A well-known cryptanalyst said that, most likely, his monthly goals for bitcoin will not be justified and bitcoin will close according to the "worst-case scenario".
His goal for the end of November was at $98,000. Its achievement in the remaining five days before the end of the month from the current 58,000 is unlikely.
The expert himself states that his model for analyzing the ratio of stocks to flow (S2F) has not lost relevance because of this.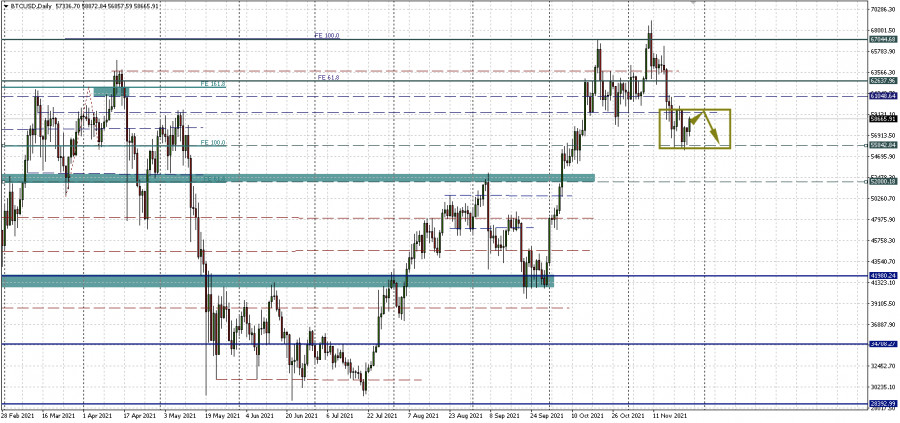 The material has been provided by InstaForex Company -
www.instaforex.com