The most difficult thing, in my opinion, in trading is to predict the timing of the forecast. Moreover, this is probably completely impossible. Although, most likely, there are some analytical models that allow us to assume how quickly a particular asset will reach a certain price.
What's the point? So far, there have been no serious shifts from the main cryptocurrency and we have to wait, there is time to discuss medium-term or even long-term prospects.
Bitcoin locally - Three Scenarios
The technical picture on the Bitcoin chart has not changed since yesterday. The main cryptocurrency still remains above the support level of 55,842.84, which means that the forecasts indicated earlier remain relevant.
Let me remind you of three short-term scenarios from the last review. The first is a sideways consolidation at 55,842.84 - 59,283.67 before the breakout, the second is a recovery above $60,000 per coin and continued growth.
Finally, the least optimistic is the deepening of the correction towards $52,000 per coin before the price returns to the increase.
Bitcoin globally - when will it be $100,000 per coin?
Not everyone is ready to give up forecasting dates. For example, veteran crypto trader Ton Weiss is trying to predict how soon the main cryptocurrency can reach the price of $100,000.
He informed his followers that the chances of BTC rising more than 75% in the remaining month and a half to the end of the year are low.
Weiss notes that while the price of Bitcoin is unlikely to rise above $100,000 in 2021, that bar could be lifted during the first three months of 2022.
Ton Weiss is an experienced crypto trader and probably makes such timing assumptions for a reason. He says that if Bitcoin manages to rise above the 50-day moving average, then only then can we talk about further growth.
So, are we going to decline?
According to Weiss, now the "more likely path" for the main cryptocurrency is to continue the correction, at least for the short term. Remember, we are still considering the $100,000 target for the first quarter of 2022.
Well, if it is difficult to judge the correctness of the timing, I can agree with the deepening of the correction. My target is the support in the $52,000 zone. And its achievement is not perceived in panic.
In order to clarify what Weiss means in his review, I plotted a bold green 50-day moving average on the daily chart, although I don't like indicators. Indeed, BTCUSD needs to gain a foothold above the 61,048.64 - 62,637.96 area, where the SMA-50 passes, so that we can talk about further growth.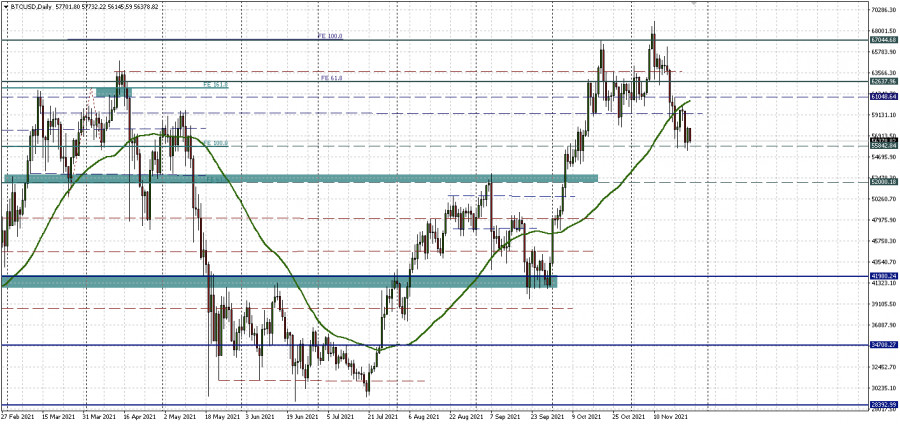 The material has been provided by InstaForex Company -
www.instaforex.com