Bitcoin regained half of Friday's losses in two days. So are the markets, which have retreated from the lows and are recovering on Monday.
The new coronavirus strain Omicron, the top newsmaker of the past few days, has sparked a massive risk aversion. And it is completely unclear whether this new strain poses a grave threat.
Bitcoin: did not reach $52,000
So far Bitcoin has not dropped to $52,000 per coin. The price, as expected, was stopped by the strong positions of buyers in the area of $53,000 per coin. But today, we managed to recover to $57,000, although it is still unclear how much we will be able to save until the end of the day.
Does this mean that the worst is over? Globally, it is difficult to say. If the new strain of the virus turns out to be not so dangerous, then all the losses can be quickly returned. And if the concern is confirmed, the markets will be in a fever, further causing episodes of Bitcoin falling.
Long term: no cause for concern
At least until the price has consolidated below the level of $52,000 per coin, there is no need to worry. But with new fears and a flight from risk, we will most likely be able to go to this support.
This is my point of view based on technical analysis. And most of the levels that we are talking about now were already perfectly worked out in the previous cycle of Bitcoin's growth.
Popular network analyst Willy Woo, on the other hand, says that bitcoin should soon complete its correction before another upward movement begins. And he makes such conclusions by analyzing network data.
Woo argues that the situation on the Bitcoin chart looks healthy and is not unusual. According to him, Bitcoin now remains in the accumulation range and still, it seems not ready for massive growth.
The analyst emphasizes that while Bitcoin is consolidating, demand is growing. Based on derivatives data, he concludes that Bitcoin may be ready to resume a bull market within the next few days.
Technical benchmarks
Now we see that the main cryptocurrency has entered the range 55,842.84 - 59,283.67. It would be nice if it stayed there. Then recovery can be expected. Consolidation may continue.
Less optimistic, but not yet critical, will be a return to Friday's lows, possibly consolidation in the range of 52,000.00 - 55,842.84 and then recovery again.
The fundamental background and news about the Omicron virus strain will determine the direction of the price. Unless, of course, the Indian parliament puts a pig in the market (although this is not expected yet).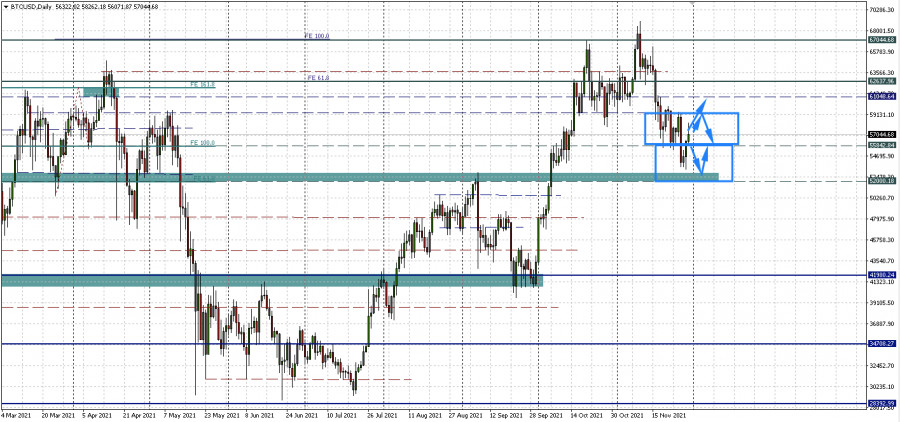 The material has been provided by InstaForex Company -
www.instaforex.com